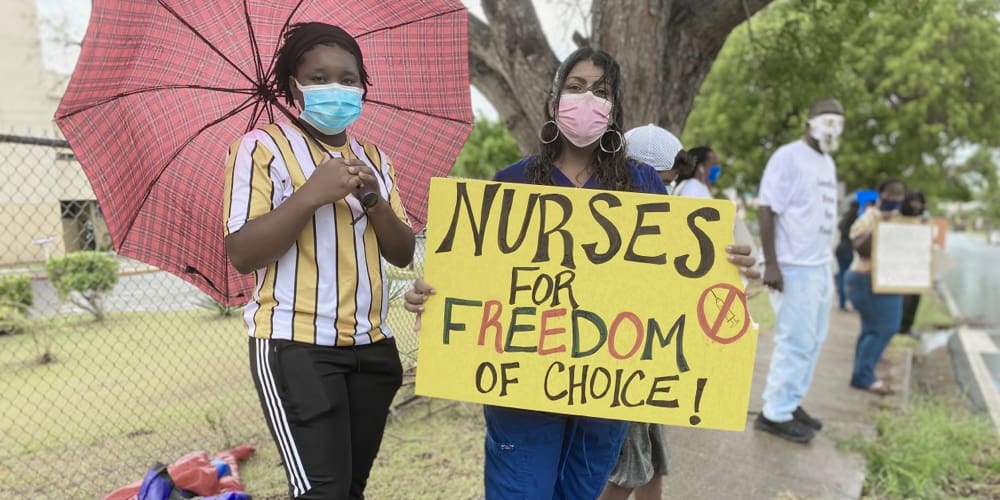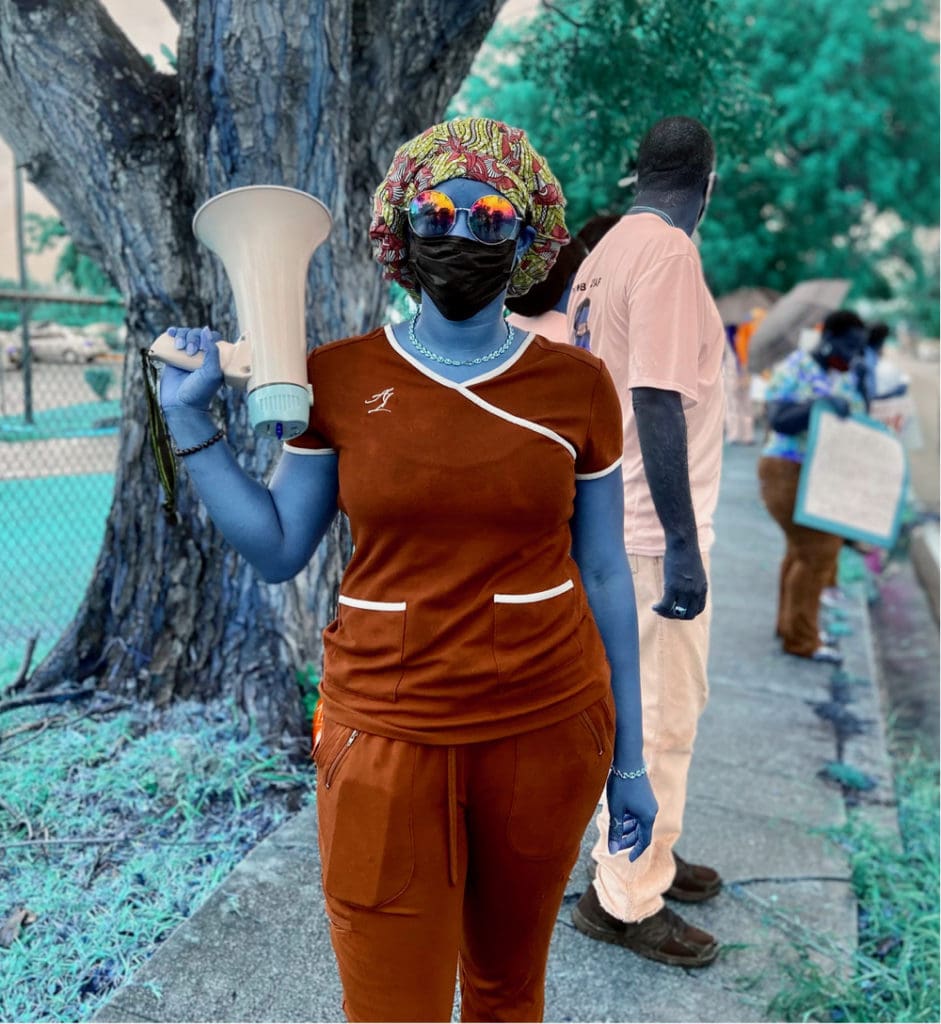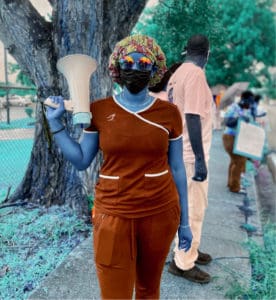 Despite poor weather, 20 to 30 employees and supporters of the Juan F. Luis Hospital on St. Croix stood united in protest Tuesday against a vaccine mandate implemented by the Virgin Islands Hospitals and Health Facilities Corporation on Friday.
The decision, effective immediately, will require all colleagues, clinical staff, contractors, and those conducting business in its facilities to be vaccinated against COVID-19 or face termination.
With a bullhorn in hand and dressed in her scrubs, JFL nurse Kashama Charles said, "Our governing body at the JFL hospital told us on Thursday, vaccinate or get out. They did give a clause for a religious exemption, but some of the nurses' reason is not religious."
The Virgin Islands Hospitals and Health Facilities Corporation's decision to implement a vaccine mandate comes as the territory is battling a surge in COVID cases that as of Monday numbered 336 active cases, with 16 people hospitalized on St. Croix and 9 hospitalized at the Schneider Regional Medical Center on St. Thomas.
"Some people are waiting for research, and some are waiting for a live vaccine available, the traditional one that we are used to, that we have all taken because no one here is anti-vaccine. To push the rhetoric that we are anti-vaccine is a little disturbing to me. We are not anti-vaccine, we just want choices. We just want autonomy over our body and not be pushed into what we are told," Charles said.
As signs dripped from the rain brought by what the National Weather Service called "Potential Tropical Cyclone Six" but which Tuesday night became Tropical Storm Fred, protestors waved their signs as cars beeped their horns in support. Signs read "I stand with my RN badge loud and proud because to be in my uniform means no harm. Respect our right," and "Not anti-vax, prochoice, my body my choice." Some shirts read "My body, no mandatory vaccination, no vaccine bullying, respect my choice."
Also joining the protesting nurses, Kristi Krieger said the decision did not allow ample time for nurses to decide.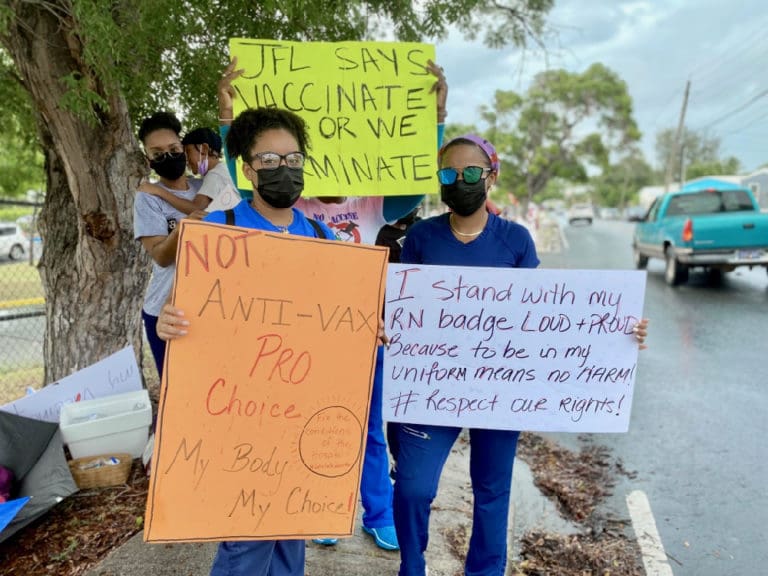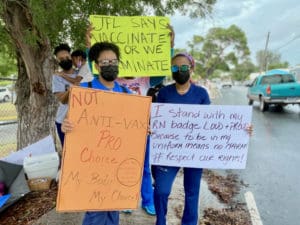 "Everything is changing every day, like their mandatory mask-wearing. Obviously, they do not really know what is going on with this vaccine. They need to give the nurses a choice as to whether they are going to take it or not," Krieger said.
The staff of JFL also received support from other community members, such as community activist Eurman Fahie who had attended the University of the Virgin Islands protest on Monday at the V.I. Legislature building on St. Croix.
Fahie said, "Our nurses have been in the trenches from day one. This is why I am out here supporting the nurses."
According to the Virgin Islands Hospitals and Health Facilities Corporation, the following policies took effect immediately:
– New hires starting work on or after Sept. 1 will be required to have the last dose of a two-dose vaccine or a single dose vaccine 14 days prior to beginning work. New hires starting work between Aug. 5 and Aug. 31 must agree to be vaccinated and must receive the first dose of a two-dose vaccine or a single dose vaccine prior to beginning work.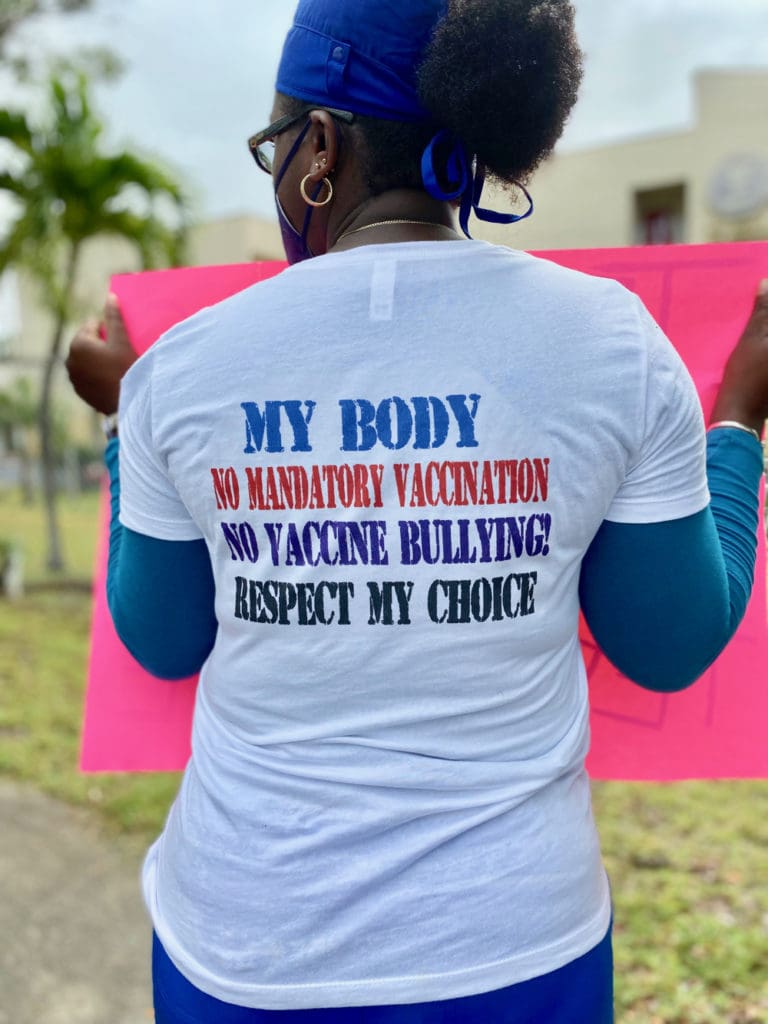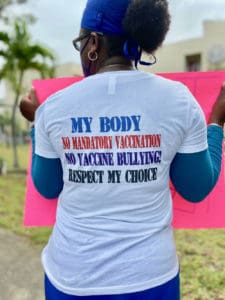 – Starting immediately, volunteers at either JFLH or SRMC will be required to have the last dose of a two-dose vaccine or a single dose vaccine 14 days prior to beginning work.
– Hospital staff: Employed hospital staff, including locums' staff (staff filling in on a temporary basis), must be fully vaccinated or complete the vaccination series by Sept. 24.
– Students: Nurses, medical, advanced practice providers and other allied health students participating in educational programs and clinical rotations are required to be fully vaccinated before placements at JFL or SRMC.
– The Human Resources Department will accept a copy of a person's vaccination card or other document given by a medical provider as proof of vaccination, according to the memorandum.
Colleagues who are not able to be vaccinated for strongly held religious beliefs or a disability will be required to apply for an exemption that will be individually evaluated by the Human Resources Department and applications must be requested from Employee Health by Monday. Those who receive an accommodation will be required to test for COVID-19 on a regular schedule of no less than once a week.