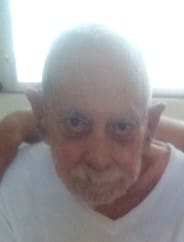 Diego Antonio Muñoz Leon, also known as "Tony," of Estate Whim Gardens died on July 25. He was 85 years old.
He was preceded in death by his wife, Josefina Muñoz; mother, Esperanza Leon; father, Adolfo Muñoz; and sister-in-law, Inez Garcia.
He is survived by his daughters: Ana L. Quesenberry, Maria A. Garvey, Lydia M. Correa and Ivette Muñoz; sons: George Muñoz, Luis Moñoz and Roberto J. Russell; grandchildren: Maribel Acevedo, Damian Acevedo, Luis D. Acevedo, Yanira Isaac and Ezequiel Garcia; and great-grandchildren: Angel Carrion, Angeliquaxia Carrion, Anaya Carrion, Janysia Ramirez, Yanel Ponce, Mya L. Acevedo, Laila R. Acevedo, Kyra L. Acevedo, Jaila Smith, Brandon Jefferson and Aaliyah Hicks.
He is also survived by great niece, Tamara Allen; great nephew, Sammy Sanabria; sons-in-law: Elvin M. Garvey and Curtis Ryner; sister-in-law, Migdalia Nieves: brother-in-law: Rubio Nieves and Manuel Nieves; special friends: Ms. Osorio, Ms. Dutchell, Ms. Georgina Farrell, Papi (Love) Radio Station and Jose Lopez; as well as other relatives and friends too numerous to mention.
A public viewing will be held from 3-5 p.m., Thursday, Aug. 11, at James Memorial Funeral Home Chapel.
A graveside service will be held at 10 a.m. on Friday, Aug. 12, at Kingshill Cemetery.