After months of anticipation, it seems the leatherback turtle which nested on Trunk Bay in early May laid a nest of unfertilized eggs, according to the V.I. National Park's chief of resource management.
The leatherback turtle first made headlines in May when she tried to lay her eggs at a beach on Caneel Bay Resort property but was spooked away by snorkelers and sunbathers. The leatherback eventually opted instead for Trunk Bay and laid her eggs at night, when the beach was deserted.
"I'm not very optimistic at this point," said Rafe Boulon. "Unfortunately, it's just been way too long. There is nothing that could have prevented development at this point."
"Once in a while you get a nest of infertile eggs," Boulon added.
VINP officials got excited about the nest when they noticed yolkless eggs on the beach nearby, explained Boulon.
Yolkless Egg Indicator
"I'm positive that she laid eggs because of the presence of yolkless eggs nearby," he said. "The little yolkless eggs that she squirted on the beach as she was leaving is the indicator. Leatherbacks always lay yolkless eggs after they lay yolk eggs."
"She probably expelled the yolkless eggs with the exertion of trying to get back in the water," Boulon continued. "The fact that there were yolkless eggs indicated that there were probably yolk eggs in the nest."
Although rare, leatherback turtles do lay unfertilized eggs at times, according to Boulon.
"It's really rare to have unfertilized eggs, but it does happen," he said. "These turtles have to mate in the middle of the Atlantic.
They may look big on land, but in the middle of the ocean it can be hard to find a mate," Boulon explained. "It's a big ocean and you're talking about one little turtle."
Part of Cycle
Sea turtles go through their cycles and when it's time to lay eggs, they do — whether fertilized or not, Boulon explained.
"The cycle happens and eggs are produced and they have to be expelled," he said. "Sometimes they are expelled in the ocean if a turtle is prevented from nesting."
"If she came up on Caneel Bay that afternoon, and then she nested on Trunk that evening — if it's the same turtle, it's unlikely that there was enough time to abort the eggs if they were not fertilized," Boulon continued. "So, it seems she made a nest of unfertilized eggs."
Leatherback turtle eggs usually have a gestation period of about 60 days, according to Boulon.
"The 60 day mark was around July 4 and that has come and gone," he said on Wednesday, July 19. "As of today, it's day 76, and that is just too long. After 70 days there is pretty much no chance that you are going to have turtles hatching."
Past Gestation Period
VINP officials will investigate the turtle nest further next month, Boulon said.
"I'm going to wait for wildlife biologist Carrie Stengel to get back," he said. "She is the one who actually worked the nest after it was laid. She marked the area off and helped monitor it."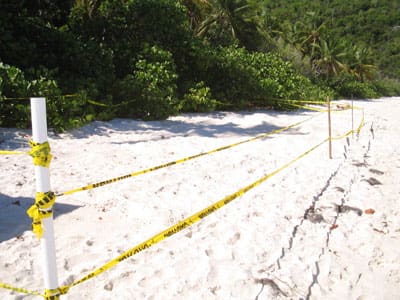 Stengel, who is currently off-island, is due back at the end of the month. Once she is back, Boulon said the two would do some "poking around."
Further Investigation
"If we locate the nest and are able to excavate it, we should be able to determine what happened," Boulon continued.
There is no evidence that the nest was tampered with at all, Boulon added. Although Sandy Point in St. Croix is the largest nesting aggregation for leather-backs in the U.S., hatchings at Trunk Bay are not unheard of, Boulon explained.
'Trunk' Turtles at Trunk Bay
"Trunk Bay is named after the leatherback turtle, which is called the trunk turtle locally," he said. "It wasn't that rare when I was a kid. There are pictures in our family album of leatherbacks nesting on the beach."
Recent years, however, have seen a decline in the number of leatherbacks choosing Trunk Bay for their nesting spots.
"There has been about one nest every two or three years on average for the last 20 years or so," he said. "With protection efforts underway in St. Croix and the British Virgin Islands for leatherbacks, we could start seeing an increase."
A number of local residents routinely congregated on Trunk Bay hoping for a glimpse of the hatchlings.
Disappointment for Residents
"I feel terrible for the people who put a lot of effort and time into the nest waiting to see the hatchlings," said Boulon.
Don't get too disappointed, however, there is always next year.
"The nesting season for leatherback turtles runs from about mid-March through mid-July," said Boulon. "Then the hatching season is roughly two months staggered from that. We'll hope for next year now."