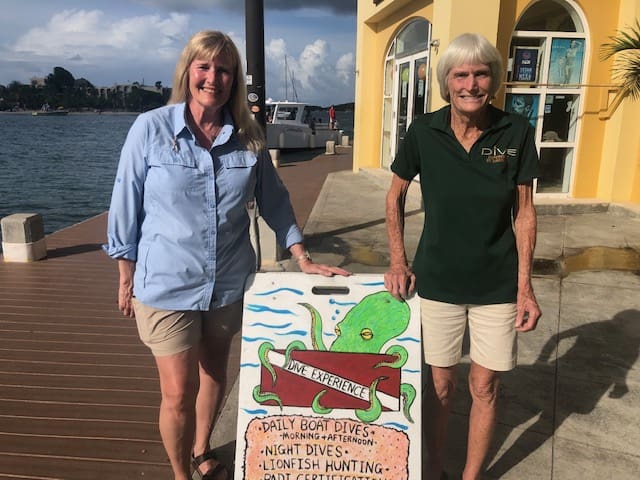 The bright, modern shop on the Christiansted waterfront, Dive Experience, was packed Saturday with divers, friends and family to celebrate the 40th anniversary of dive master Michelle Pugh's iconic business.
Pugh traveled to St. Croix in 1977 to teach diving for three months. She was certified to dive at the age of 16 in her home state, California. In the years since then, she has dived every continent on Earth and counts 10,000 dives in St. Croix waters alone. She has gained years of experience and diving certificates to teach and train. She was the first woman to teach PADI classes in Russia.
By 1983, Pugh was able to start her own dive shop at Salt River – she only had a boat, a captain's license and a phone. After Hurricane Hugo destroyed everything but the boat, she moved into the Comanche Hotel in Christiansted, then to the Strand Street location and finally into her present location at the North end of King's Alley.
"I came here for three months to teach and I've stayed for 45 years," Pugh told the Source.
Dive Experience is the oldest dive center on St. Croix, with boat and training dives every day of the week in the waters from Cane Bay East to Long Reef and Scotch Banks. The shop supplies the needs of professional and recreational divers and snorkelers, including Trudi Gilliam fish art and a large collection of Reef sandals.
Sam Halvorson arrived on St. Croix in 1988 to look for a job as a dive instructor. With only three operators on the island, it wasn't a surprise he ended up with Pugh. They have worked together for the last 29 years.
"I was hired on a temporary basis. I'm still on a temporary basis," Halvorson said.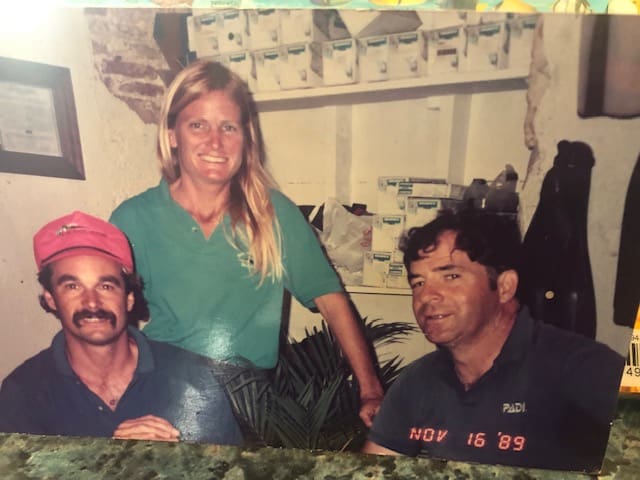 In addition to party food and beverages, the celebration included special guests. Mary Connelly, chairperson of Women Divers Hall of Fame with her husband, Steve Johnson, and daughter, Dorothy Alexander (who became a certified diver when she was 10 years old). Naturally, Pugh is an active member of the HOF.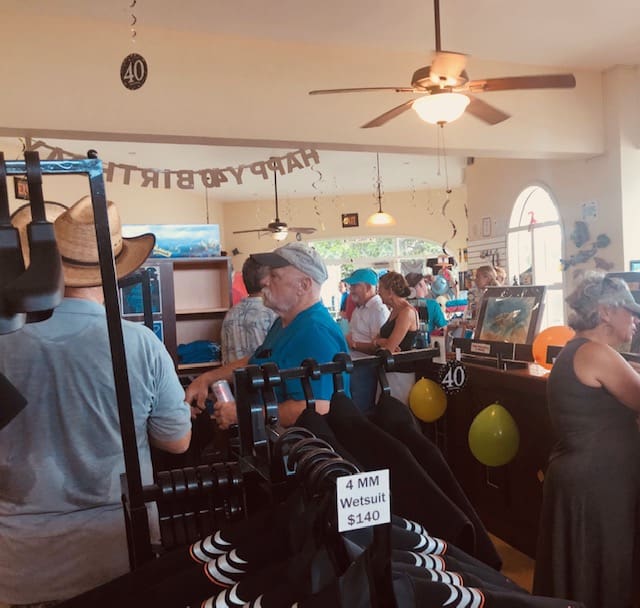 Pugh has had repeat customers who visit the island and dive year after year – some as many as 30 years. One set of friends told her good-by last week but stayed over to surprise her at the party.