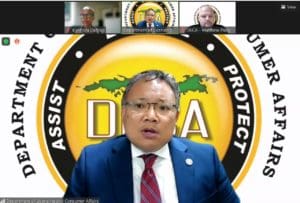 Department of Licensing and Consumer Affairs (DLCA) Commissioner Richard T. Evangelista Esq. will host an "educate before we regulate" town hall to inform our Latin community on the licensing process and procedures. The town hall will be held at 6 p.m., Monday, Aug. 15, at the Rothschild Francis Market Square.
"The Latin community has reached out to DLCA with some of the challenges they are having with the licensing process," said Commissioner Evangelista. "We hear your concerns and find it necessary to educate on those requirements. We encourage all impacted community members in St. Thomas/St. John District to join us at this forum on Monday, Aug. 15, 2022."
Consumers or merchants with questions should contact DLCA's Office of the Commissioner at 725-5129.
The Bryan-Roach Administration is investing in the Territory's people, infrastructure, and future through transparency, stabilizing the economy, restoring trust in the government, and ensuring that recovery projects are completed as quickly as possible. Visit https://transparency.vi.gov.