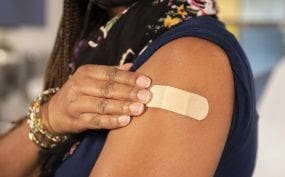 The V.I. Department of Health (DOH) is excited to report that we have experienced a surprisingly high demand for the COVID-19 vaccine during this incentive cycle.
As a result, the department has run out of the Pfizer vaccine in the St. Thomas/St. John/Water Island District. DOH is currently sourcing a supply of Pfizer. A supply of the Pfizer vaccine is anticipated to arrive tomorrow and in the interim the Moderna vaccine will be available for use.
Commissioner Encarnacion simply expressed her satisfaction of the high number of individuals who are being vaccinated.
"The $250 incentive gift cards supply is also low," said Encarnacion. "We will continue to provide the vaccines at Food Fair and the Village. If the on-hand supply runs out, you will be given a timeline to return for your gift card. We ask that you return with your vaccine and ID."
The Health Department apologizes for any inconvenience that residents may have experienced; however, it is pleased that Virgin Islanders appreciate the importance of getting vaccinated and boosted.