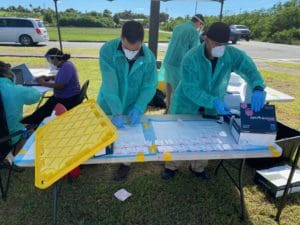 Starting Wednesday, Feb. 2, the V.I. Department of Health will temporarily cease its COVID-19 pop-up testing events on St. Croix and St. Thomas. This change will not impact pop-up testing and vaccinations that occur on St. John.
"The department was able to quickly meet the needs of the community in response to the testing demand during the Omicron surge. With the decrease in new and active cases now, we can safely resume our regular daily testing hours," said Health Commissioner Justa Encarnacion.
The department has improved its free testing options by expanding daily drive through testing to prioritize testing for those who are sick or are a close contact of a confirmed positive case. Close contacts are individuals who were within six feet of a positive case for 15 minutes without a mask on over their nose and mouth. Close contacts exposed to a positive case should stay away from others and wait at least four days before getting a COVID-19 test.
Testing is by appointment and is conducted drive-thru style at the Charles Harwood Complex from 9 a.m. to 12:30 p.m. and at the Roy L. Schneider Hospital from 9 a.m. to 12:30 p.m.
The epidemiology hotline numbers are accessible from 8 a.m. to 10 p.m. for callers to report suspected cases at 712-6299 or 776-1519. Pre-registration for testing can be completed online at www.covid19usvi.com/testing.
Pop-up vaccinations continue throughout the community at various sites. Here is the current schedule for pop-up vaccination sites throughout the territory:
Tuesdays and Thursdays from noon to 3 p.m. at Cost-U-Less on St. Thomas, and Wednesdays from 1-4 p.m. at the Port Authority gravel lot on St. John. The St. John location also has free COVID-19 testing available from noon to 3 p.m.
The Department of Health is also providing free COVID-19 vaccines on St. Croix at The Market (formerly known as Plaza Extra West) every Tuesday, Wednesday and Thursday from 10 a.m. to 1 p.m. and at the Farmers Market at the Agricultural Fairgrounds on Centerline Road every Saturday from 7-11 a.m.
The current schedule for the COVID-19 vaccine for ages 5-11 is:
Tuesday and Friday at Maternal Child Health on St. Thomas from 8 a.m. to 4 p.m. and Monday through Friday at the Community Vaccination Center on St. Croix from 8 a.m. to 5 p.m.
For ages 5 and up, people can schedule an appointment by calling 777-8227. For ages 5 and older, people can schedule themselves or their child online at www.covid19usvi.com/vaccines. If an individual, the individual's child or someone the individual knows is homebound, the Department of Health can also bring the COVID-19 vaccine to the home of that person.