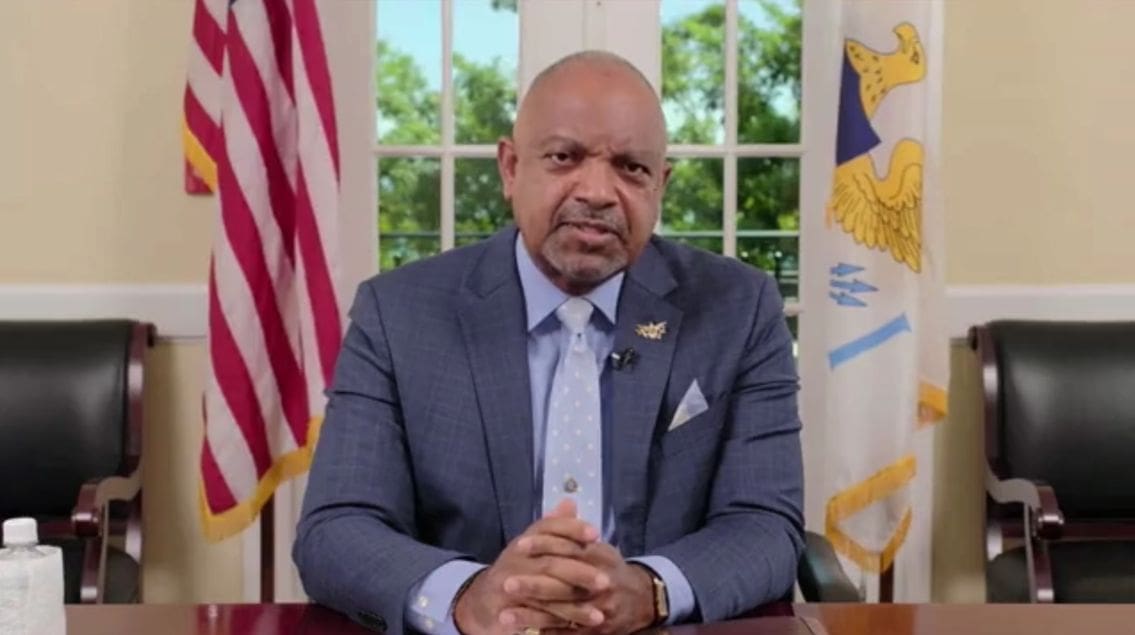 Though the passing this week of the 100-person mark for COVID-19 related deaths is a "sobering reminder of the threat" the virus poses to the community, the decrease in the number of active cases after the recent variant surge has enabled an easing of restrictions for travel into the territory, according to Lieutenant Gov. Tregenza Roach.
During Monday's Government House press briefing, Roach announced that travelers into the territory will no longer have to produce a negative COVID-19 test taken 72 hours prior to departure. Instead, negative test results can date back five days, or travelers can produce proof of being vaccinated within the territory, Roach said.
According to officials, the Health Department is currently tracking 473 active cases (303 on St. Croix, 145 on St. Thomas, and 25 on St. John,) with 14,903 individuals testing positive overall and 312,703 tests administered since the start of the pandemic. Gov. Juan F. Luis Hospital reported 12 COVID-19 positive admissions, with two vented, while Schneider Regional Medical Center reported eight, with two vented.
Roach said the best shot against infection continues to be the COVID-19 vaccine, though vaccination rates among young people ages 5-15 are low, at 23 percent of those eligible. It's a good start, he said, but "nowhere near" where the numbers should be, particularly as students have returned to in-person learning within the territory's public schools.
[adrotate group="6"]
To encourage a boost, Roach announced a second $250 gift card giveaway for children ages 5-17, which began on Jan. 31 and runs through March 11. Those in the age category who receive the second dose of either the Pfizer or Moderna vaccines by March 11 will receive their card at the time the second dose is administered, he explained. Children who have only received the first dose by that deadline are not eligible.
Children who were already fully vaccinated will also receive a $250 gift card, and the Department of Health is compiling a list of the names and preparing to start distributing the gift cards on February 16.
Appointments for children's vaccines can be scheduled by calling (340) 777-8227 or online at covid19usvi.com/vaccines. Vaccination hours are 8 a.m. to 4 p.m. Tuesdays and Fridays at the Maternal Health Center on St. Thomas or 8 a.m. to 5 p.m. Mondays through Fridays at the Community Vaccination Center on St. Croix.
A parent or guardian must accompany any minor wishing to get vaccinated and bring an ID for both the minor and the adult.
Meanwhile, the Health Department is shifting its COVID-19 testing hours to 9 a.m.-12:30 p.m. by appointment, beginning Wednesday. Hours will not change on St. John, and testing will be available from noon to 3 p.m. three days a week – Tuesdays, Wednesdays, and Fridays – at the V.I. Port Authority gravel lot until further notice.
Pop-up vaccination sites and times are:
St. Croix: Tuesdays, Wednesdays, and Thursdays from 10 a.m. to 1 p.m. at the Market (formerly Plaza Extra West) and 7 to 11 a.m. Saturdays at Agriculture Fairgrounds.
St. Thomas: Tuesdays and Thursdays from noon to 3 p.m. at Cost-U-Less.
St. John: Wednesdays from 1 to 4 p.m. at the V.I. Port Authority gravel parking lot.