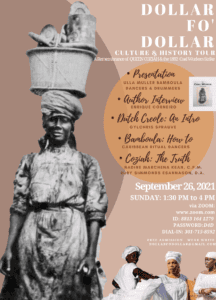 The public is invited to the 16th Annual Dollar fo' Dollar Culture and History Tour: A Remembrance of the Coal Workers' Strike of 1892. It will be held from 1:30-4 p.m., Sunday, Sept. 26, on St. Thomas via Zoom.
The free, interactive event will include a performance by the Ulla Muller Bamboula Dancers and Drummers; a bamboula dance workshop by the Caribbean Ritual Dancers; an interview with author Enrique Corneiro about his book "The Coal Women of St. Thomas;" an introduction by Gylchris Sprauve to Dutch Creole, the former language of the enslaved Africans of the Virgin Islands; and a presentation on "Queen Coziah: The Truth," by genealogists and storytellers Nadine Marchena Kean and Ruby Simmonds Esannason.
The activities are held in celebration of the hundreds of 19th and 20th century coal laborers and Queen Coziah, who led a successful protest in the streets of Charlotte Amalie for better wages.
This cultural experience is offered free to the public, through partnerships with all participating individuals and organizations, to include Conch Shell Media and 340 Bookstore located in Crown Bay Marina, which is offering a discount on, "The Coal Women of St. Thomas," to anyone who mention the event.
This year's event is dedicated to the memory of two culture bearers who have contributed over the years to the Dollar fo' Dollar tour. Michael Sheen was instrumental in sharing historic postcards of the coaling industry of the Virgin Islands featured in the yearly exhibit; Clarence "Ras Lumumba" Leonard actively participated in drumming for the events. The organizers are grateful for the many ways their creative spirits enriched the community.
To pre-register for this year's event, visit www.zoom.com, click on 'join a meeting' and enter ID: 8813 164 1279 and password: D4D.
Alternatively, simply click on: https://us02web.zoom.us/meeting/register/tZwsdOiuqjooHd0l0-7C2aAcHdcwYBoVJnM3
To participate from a landline, dial 301-715-8592. After registering, the caller will receive a confirmation email containing information about joining the meeting.
For more information, visit the website at www.dollarfodollar.org or www.facebook.com/dollarfodollar or email dollarfodollar@gmail.com.