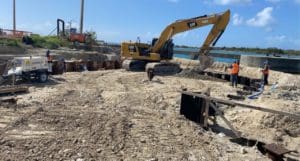 Carlton Dowe, executive director of the Port Authority, told the Governing Board members Wednesday, "We had a minor setback with AT Construction with the project at the Molasses Pier."
The work was shut down for a week after a "strong smell of gas" was noted. Sixteen workers were affected with symptoms of nausea, dizziness, and headaches. Several were also vomiting and seven of the employees affected were asked to return to a physician for follow-up care. The pier is near the Limetree Bay Refinery, but it has not been determined if the refinery was the source of whatever made the workers sick.
Limetree officials released a statement saying they are confident it was unrelated to them.
"Over the past several weeks, our environmental specialists have made repeated visits to the site and provided the Port Authority with a continuous monitor for detecting odorous gases, including hydrogen sulfide and sulfur dioxide. These visits and our thorough investigation of activities at the refinery have given absolutely no indication that Limetree is the source of the odors," company officials said in a statement.
"Limetree Bay Refinery is presently removing hydrocarbons from the refinery equipment in preparation for indefinite shutdown under a strictly controlled, EPA-approved procedure and in the presence of an EPA-approved independent observer. We welcome a thorough investigation by the appropriate authorities of the reported incident at the Molasses Pier."
AT Construction reported the details to VIPA. It affected the project from Sept. 1 through Sept. 7, and again on Sept. 20.
Dowe has met with both the Department of Planning and Natural Resources and Limetree officials regarding the incident. He said, "The Department of Planning and Natural Resources has placed monitors at the site to test the air quality and to ensure that people are not working in an unsafe environment."
Jamal Nielsen, the DPNR spokesperson, told the Source, "The department will continue to work alongside our local and federal partners to identify the source."
According to Monifa Marrero Brathwaite, public information officer for the Authority, "VIPA hosted a groundbreaking ceremony on July 21, 2020, to commemorate the start of construction." Port Authority officials had hoped the project would be completed before the end of this summer.
The work at the pier and the Gordon Finch Cargo Facility is to allow the relocation of cargo operations currently on the north shore and Gallows Bay area to the industrial area of the south shore. The goal is to turn Gallows Bay into a passenger facility more conducive to tourism than cargo.
A 19,000-square-foot building, 13,000 square feet of which will be cargo space and the rest administrative offices, is to be constructed. The building will house Customs and Border Patrol, Port Authority, and the Internal Revenue Bureau. The sea around the dock is also being dredged so the dock can accommodate two vessels simultaneously with roll-on roll-off operations.