Young students at JESS enjoy the new A.C. units donated by Dr. Cool and Mitsubishi Electric during the launch of the "Cool the Schools" campaign on Wednesday, October 5. Photo credit to Amy Roberts. [hr gap="1″]
The Julius E. Sprauve School in Cruz Bay celebrated the installation of four state-of-the art air conditioning units at an assembly in the school cafeteria on October 5.
Students, faculty, and community members gathered in the delightfully chilled cafeteria to thank Dr. Cool and Mitsubishi Electric for donating $35,000 of equipment and labor to an initiative to "Cool the Schools."  Three of the units were installed in the cafeteria, which doubles as an auditorium, and one unit was placed in Mr. William's social studies classroom.
The program was conceived by Alice Krall, a community activist and former marketing manager for Dr. Cool, a leading air-conditioning and refrigeration company on St. John.
[adrotate group="6"]
Krall recruited Jim Dobrowolski, the president and CEO of U.S. Facilities, Inc. (USF), which is the parent company of Dr. Cool and the local distributor of Mitsubishi air conditioning and refrigeration equipment.  Mitsubishi donated the units, and Dr. Cool donated the labor. Penn's Trucking transported the equipment for free.
Dobrowolski, who has owned a second home on St. John for 20 years, is a board member of the Island Green Living Association.  During the presentation, he and others emphasized the efficiency of the equipment which has won awards for its technology.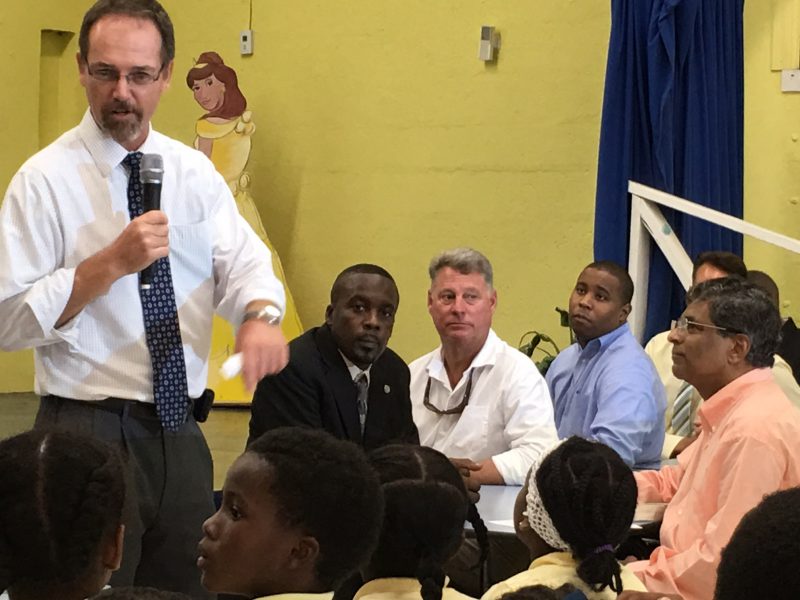 The units use a new type of refrigerant, R410, which burns more cleanly and efficiently than other coolants, according to Fernand Montaño, International Regional Manager of Mitsubishi Electric.  The refrigerant is a combination of different gasses that are manufactured from chemicals, and "not extracted from the earth or trees." Eighty-three percent of the materials used in the construction of units is recycled material, he said.
"As a father and coach of youth soccer, I can't imagine my kids being distracted because they're hot, and not able to focus on their school work," said Montaño who lives in Georgia.
At the assembly on Wednesday, JESS students proved that they could pay attention when speakers showed slides about the new equipment and then awarded prizes to students who could answer the questions about the presentation correctly.  Students eagerly vied to win sunglasses and calculators.
As temperatures rise globally, school staff and students in the Virgin Islands often struggle to stay focused in overheated classrooms. The problem is especially severe at the beginning of the school year when local temperatures are at their highest.
According to union rules, when classrooms with natural ventilation reach 89 degrees, teachers must notify a principal who then must move the class to another location or rectify the situation, said Avery Lewis, president of the American Federation of Teachers Local 1825. (The maximum temperature for classrooms that do not have windows that open to the outside is 84 degrees.) "The problem is when it's happening to one classroom, it's probably happening to all," said Lewis, making it difficult for principals to make accommodations.
Lewis praised Mitsubishi's and Dr. Cool's donation.  "It's a great community collaboration," he said.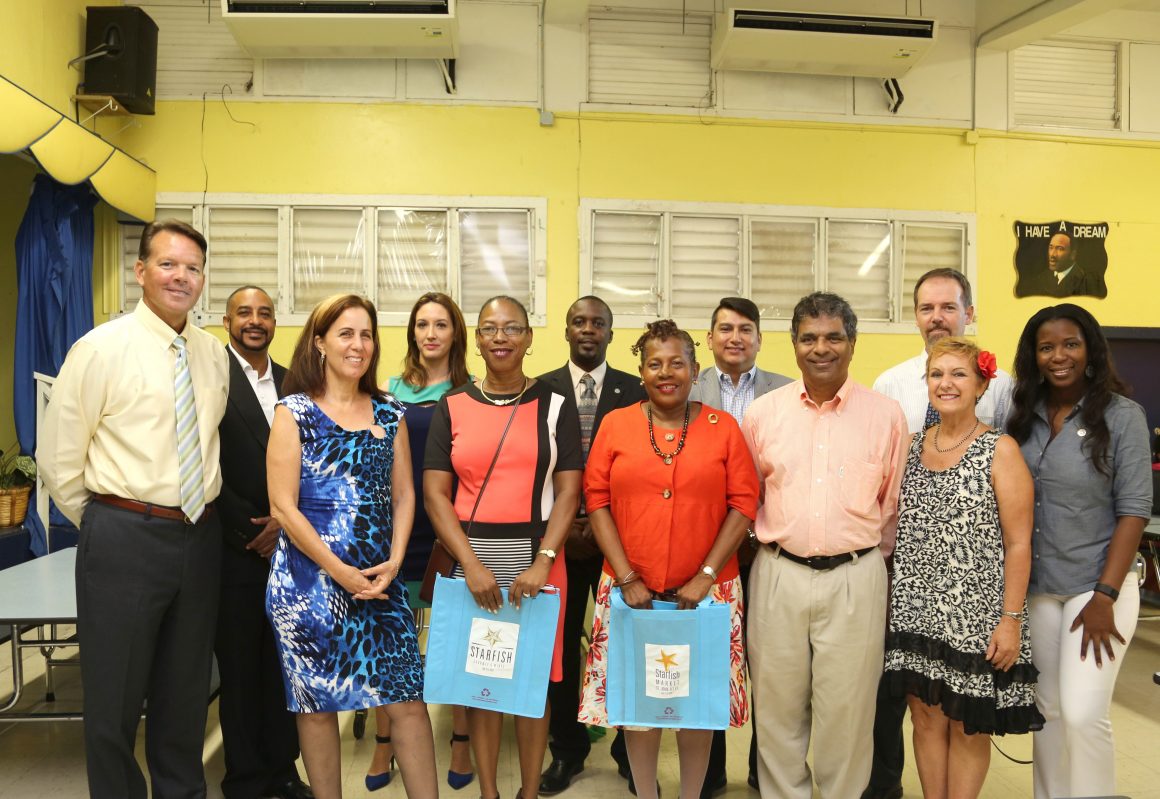 The air-conditioned cafeteria at JESS will provide some respite from the heat. "My AC died about two weeks ago," said Assistant Principal Lisa Penn as she introduced the guest speakers, "so happily I can come in here and cool down for a few minutes."
Brandon Kelley, vice president of USF, said Island Green Living Association has agreed to take charge and reach out to the community to join the Cool the Schools initiative. "By sharing this story, we hope others will be inspired," he said.
For further information or to make a donation, contact Alice Krall at 340-513-7236.