The fruits of a bro-mance, born of a shared love for cars, produced a gift for St. John musical Youth.
Late last month retired postal worker Al Smith and contractor Jay Swartley turned over a $643.15 check to the Love City Pan Dragons. Smith and Swartley are promoters of the Love City Car Show.
Swartley said the proceeds were used to benefit a local community group. Al and Jay said that the Love City Car Show started as a community event that was designed to bring the community together.
[adrotate group="6"]
The first one was held in conjunction with the Coral Bay Labor Day celebration, featuring entries from the Volkswagon Club of St. Thomas. A number of the vintage cars were also featured in the 2015 Labor Day Parade.
This year, the car show was staged at the Landing. In spite of overcast clouds and rain the cars and attendees that did participate had a great time. 
Smith said trophies were given for Best Interior, Best Paint, Best Engine, Best Ragger, Best Motorcycle and Best Overall in Show. A new category also allowed promoters to add a prize for Best Sound.
"It is not just about the car show" Jay said, "it is about engaging the youth". "We encourage the kids to come out and check out the cars, trucks and motorcycles that the owners have worked hard to customize and restore". Perhaps they may get involved with cars as a hobby or even employment," Swartley said.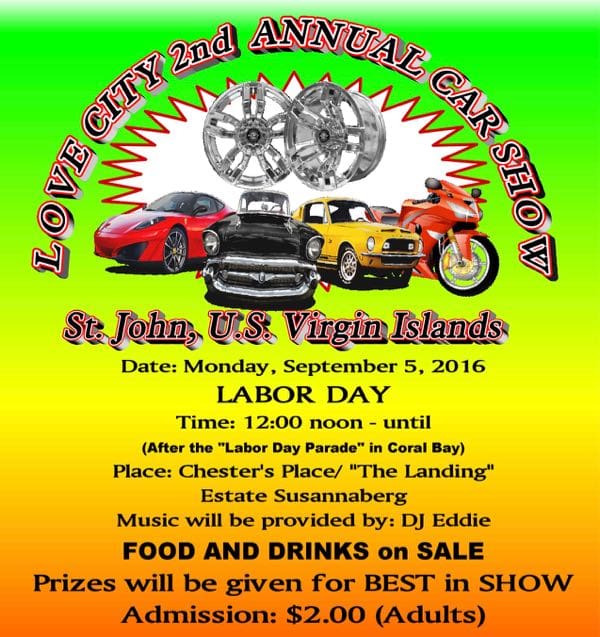 "The goal of the Love City Annual Car Show is to engage the community and particularly the youth and donate the proceeds every year to a St John Youth Organization" Smith said. "Because of the generosity of our sponsors this year we were able to give a gift to Love City Pan Dragons."
Organizers hope to include not just St. Thomas but St. Croix and Tortola next year. "We are expanding our show to include more vehicles as well as more activities for the kids like a matchbox car track" stated Swartley. "Of course we have a DJ but hope to include live music next year."   
Swartley said he was drawn to the idea of having a car show through his work as a contractor. Sub contractors he worked with owned vintage cars and often spoke about their hobbies.
As he began organizing the first event, he met Smith on St. John, where they both live.