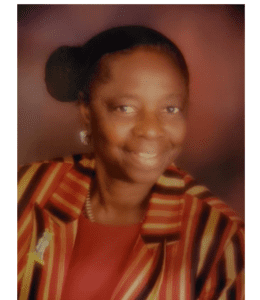 It is with deep heartfelt sadness that the family of Dr. Elise Caiby Warner announces her passing on Nov. 22 at the age of 76 in Baltimore, Md.
She was born on St. Thomas on May 14, 1945, and was a hardworking educator and servant and leader whose career with the Department of Education involved assignments as English teacher, reading specialist, ESSA Project, director of curriculum, instruction and libraries, assistant principal at Eudora Kean High School, assistant principal at Michael J. Kirwan Elementary School, and principal of Leonard Dober Elementary School.
Her service with the Wesley Methodist Church involved being a member of the Benevolent Society, the Wesley 6:30 a.m. Choir, Wesley Brothers and United Sisters, director of the Melody Makers Steel Orchestra and director of the Wesley After School Program.
She was preceded in death by her parents: Lawrence and Evelyn Caiby; husband, Roy Marvin Warner; and brother, Larence Caiby.
She is survived by her son, Ryan Marvin Warner; sisters: Enola Foy, Erica Yearwood and Esonia Orozco; sisters-in-law: Ellerney Gabriel, Maysia Warner, Juliet James and Stephanie Warner; brothers-in-law: Kelvin Yearwood, Albert Orozco, Edwin Warner and Ronald Warner; nephews: Duane Foy, Darren Foy, Daverne Foy, Kelvin Yearwood and Jai JnoBaptiste; and nieces: Lori Caiby, Ebonei Genus, and Karin Yearwood.
She is also survived by cousins: Shirlyn Chinnery, Patrice Chinnery, Glenn Chinnery, Erwyn Clark, Kent Clark, Julene Clark, Lavonne Clark, Denise Gumbs, Dawn Dawson Freeman, Delois Abraham, Donna King, Laurette Williams, Faye Richardson, Debra Faulkner, Joy Harrigan Scotland, Joanne Harrigan, Debra Banini, Dale Abraham, James Harrigan, Jerry Harrigan, Joel Harrigan, Kevin Harrigan, Elroy Harrigan, Juneau Faulkner, Kade Faulkner, Dion Herbert, Derek Herbert and Darrel Herbert.
Other survivors include special friends: Janet Meyers, Janet Burton, Janet Lake, Judy Pressler, Mary Vanterpool, Louise Flamer, Althelia Johnson, Edris Daly, Doris Wells, Felecia Brownlow and Mary Harley; as well as many other relatives and friends including the CAHS Class of 1962, Wesley Methodist Choir and Congregation, Melody Makers Steel Orchestra, officers and parents, Wesley After School students and staff, and numerous family members of the Parrott, Caiby, Harrigan, Vanterpool, Phillips, Charleswell, Callwood, Warner and Hatchette families.
The first viewing will be held from 4-6 p.m., Friday, Jan. 14, at Turnbull's Funeral Home. The second viewing will be held from 8:30-10 a.m., Saturday, Jan. 15, at Wesley Methodist Church, Anna's Retreat. The funeral service will begin at 10 a.m. Interment will follow at Western Cemetery No. 1.
Funeral arrangements are entrusted to Turnbull's Funeral Home and Crematory Services. All COVID-19 protocols will be observed.