Cathy Smith, who owns and operates VI Coffee Roasters with her husband Ramsey on St. Thomas, presented an application for tax benefits to the Economic Development Commission at a public hearing Tuesday.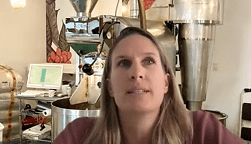 Although the producer of small-batch specialty coffees has been mostly the work of the couple for the last decade, Smith told the Commission the couple plans to expand and add more employees. Their coffee blends are distributed to hotels, restaurants, and cafes. According to the business's website, "The secret lies in our method of artisanal small-batch roasting. Roasting our beans in smaller quantities leads to better quality control and lets us capture flavors and aromas rarely found in mass-produced coffees."
Smith told the commission that the specialty coffee market was growing, and she saw room for growth on the islands. When asked if it was possible to grow coffee beans in the territory, Smith said the challenge was the altitude. Coffee beans are usually grown at higher elevations than those found here.
No decision was made at that hearing. However, a decision was made in the Economic Development Authority meeting that followed the Commission hearing.
The five Authority members present voted to affirm the redevelopment agreement between Frenchman's Reef and the government. Frenchman's Reef and its adjacent sister property are scheduled to open for the next tourist season. However, there still seems to be some confusion about what they are going to be called.
In a May press release from Aimbridge, the company operating the resorts referred to them as "The Westin Beach Resort & Spa at Frenchman's Reef" and "The Seaborn at Frenchman's Reef, Autograph Collection."
The EDA agenda listed the item as an application by CREF3 USVI Hotel Owner, Inc. f/n/a DiamondRock Frenchman's Owner, Inc. d/b/a Frenchman's Reef Marriott Resort & Spa and the New Noni Beach, a St. Thomas Resort, Autograph Collection.
In other business, the Authority approved extending the kick-in date for Cinnamon Bay Resort, which operates a campground, to November and suspending the tax certificate for Media 123 from January 2019 to 2021. The firm asked for the suspension and will now have to pay relevant taxes for the period.
The meetings were chaired by Kevin Rodriguez. Members attending were Gary Molloy, Jose Penn, Phil Payne, and Positive Nelson.