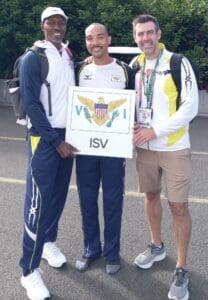 The Virgin Islands Track & Field Federation (VITFF) has announced that Eduardo Garcia competed well at the 2022 World Athletics (WA) Outdoor Track and Field Championships. Eduardo competed on Sunday, July 17, in the marathon, 26.2 miles, when he finished with a seasonal best time of 2 hours 23 minutes and 16 seconds, which is about five minutes off his personal best. Garcia finished the race in 53rd place in the world in a field of 62 athletes.
He is grateful for the opportunity to represent the Virgin Islands. "I started having cramps in my right hamstring 90 minutes into the race and had to fight for the last 8-9 miles. I gritted my teeth, put my head down, and ran with everything that I could give. I could hear the crowd yelling my country and my name. They could see I was struggling and encouraged me the rest of the way," Garcia said.
The VITFF is super proud of the manner in which Garcia represented the VI on the world stage of the 2022 WA Outdoor Track and Field Championships.
Full results are at:  https://www.worldathletics.org/competitions/world-athletics-championships/oregon22/
The VI will be represented in early August by Michelle Smith at the World U20 Track and Field Championships in Cali, Columbia, scheduled for Aug. 1-6.
Malique Smith, Eddie Lovett, Maia Campbell and Yashira Rhymer-Stuart will compete in the NACAC Senior Championships in Freeport, The Bahamas, from Aug. 19 – 21.