Department of Education personnel set up the registration tables to welcome participants for the 6th annual Parents Conference at the Marriott Frenchman's Reef Resort on Sunday, September 25. The conference informed parents and shows them how to help their children get a better education.
Photos provided Judi Shimel. [hr gap="1″]
ST. THOMAS — The Department of Education is rolling out its annual series of programs and workshops designed to help parents insure their child's success in school. The first presentation took place Sept. 25 when dozens of parents attended the 6th Annual Parent's Conference at Frenchman's Reef Resort.
The theme for the 2016 conference was "Sharing a Vision of Student Success." It was hosted by the Office of the Insular Superintendent, St. Thomas-St. John and the 31st Legislature Committee on Education and Workforce Development.
St. Thomas-St. John Superintendent Dionne Wells-Hedrington said she was encouraged by the turnout at the Marriott Frenchman's Reef Resort on a Sunday morning. She also spoke about how difficult it can be to get parents involved to pick up progress reports, attend teacher conferences and school assemblies.
Jeraine Forde, director of student and community affairs was the principal organizer. She said the parent's conference provides information they need to keep track of what's going on with their students in and out of school. "This conference is a one-stop shop to show parents what it means to be an engaged parent. Some just don't know," Forde said.
Topics tied to the classroom included Special Education, science and technology, bilingual education. Outside the classroom parents were introduced to the hidden perils facing children through the Internet, bullying at school and spotting the signs that children may be sexually abused.
Parents like Arvin Joseph, Sr. came early and stayed through the day. He said all five of his children have either graduated from or are currently attending a VI public school. Joseph also said he has attended almost all of the Department of Education's parent conferences. An auto mechanic, Joseph said he wanted to become well informed in order to support whatever ambition each of his children might pursue. "I know from my history, the men are supposed to protect the women and raise their children, not the woman protecting the children and trying to raise the man," he said.
Former schools superintendent Lisa Hassel Forde, now the principal at the Addelita Cancryn Junior High School, praised Joseph as one of her most involved parents. Hedrington, the current superintendent, said if more parents would join events like these they might see student achievements soar.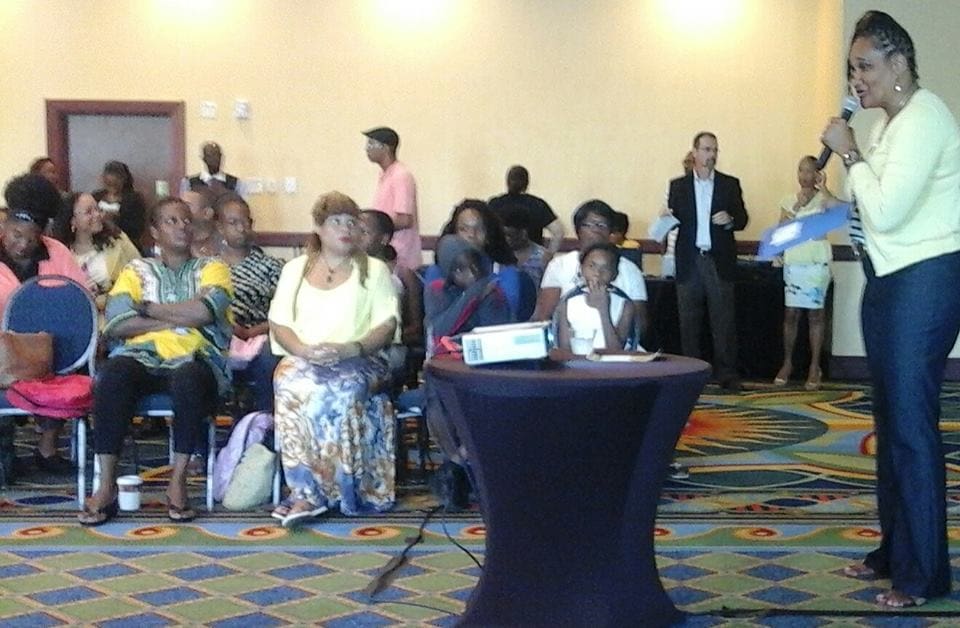 "Children want parents to be there. They want them to acknowledge when they are doing great. They want them to pick up their report cards," Hedrington said. "But I find that for various reasons our parents aren't involved enough."
From her days as a classroom teacher, assistant principal and principal on St. John, Hedrington said she sometimes had to hold mandatory conferences to get parents to show up in her office.
The superintendent added that more opportunities for parents will come next month, with the reopening of Parent University.
First introduced in 2010, Parent University provides an opportunity for adults to understand what children learn in school, how children are taught and tested and what information can be learned by reading a student's progress report. The program is designed to make school a less intimidating place for parents to visit and shows them how to work along with educators to promote success for their students.
The keynote for the Sept. 25 conference addressed parental involvement from a different perspective. New York Educator La'Monte Geddes told the group he was raised by a housekeeper mother and a truck driver father. The speaker stressed the importance of daily communication between parents and children.
One of the first stories he told was how his mother used to send him notes as an adult.
"The notes sometimes said 'I love you,' he said. Sometimes there would be $3 pinned to the note. You can't buy anything with $3, but I could never tell my mother that I don't need that $3. It came from her, it came from her heart." And because she was a housekeeper, Geddes said, he knew there was hard, physical work behind the small gifts.
He also spoke of how his mother read to him, and how it made him feel. "How does it make you feel, when someone reads to you? Does it make you feel like you're in kindergarten? Like you're in a movie, and somebody's narrating it, all to yourself? Especially when they're reading your favorite story," he said.
The group's opinion split. Some said they'd like to read. Others said they were too busy, or didn't have the time. But Geddes pressed the point. Those who want to see their children learn in ways they felt important should think about it.
"We're forgetting the small things. Communication starts with that, just that, at night time. Taking out a book — Dr. Seuss — at nighttime; giving them a positive thought before they get in that bed," he said.
One woman stood and made a bold confession. She didn't read to her children, she said, because, "I cannot read at all." Not having that ability kept her from helping her children, and she said, also put her in a vulnerable position.
"Everybody does think I can read, but I'm ashamed to tell them I cannot read," she said.
Her confession produced a compassionate response from a teacher who invited the mother to visit her classroom and learn how to read.
"Young lady, listen to me. My room number is 10. And I'll be the first to tell you come to my room and I will help you," the teacher said.
The two women fell into a long embrace as the group applauded.