St. John residents will soon see eight new faces serving the island's Fire Department. Seven St. John residents, and one St. Thomas resident, will graduate this month from a firefighter training class, held specifically to boost the number of firefighters assigned to the island.
St. John currently has 40 firefighters assigned to its Fire Department, and while 40 may seem like plenty, it could actually put the island in a dangerous situation during emergencies, explained St. John Fire Chief Brian Chapman.
"We have six people stationed in Cruz Bay and four in Coral Bay, and only 14 of the 40 firefighters live on St. John," said Chapman. "In case of a hurricane or emergency, firefighters report to the closest station, so the St. Thomas guys wouldn't come over here. We could have 14 guys at two stations for up to 72 hours."
St. John Residents Help Navigate
Firefighters who are St. John residents have knowledge of the island that is beneficial when responding to an emergency, said Chapman.
"We are looking forward to getting St. John people who know where they are going," he said. "We have a hard time putting somebody who knows where they're going in each vehicle."
The recent St. John-only firefighter class was pushed for by Lt. Gov. Vargrave Richards, according to Chapman.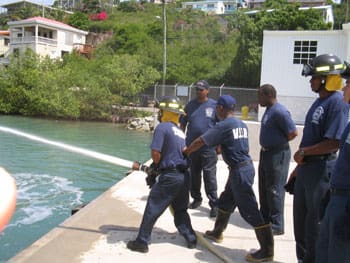 "After a VITEMA (Virgin Islands Territorial Emergency Management Authority) meeting last August, the Lieutenant Governor started pushing it, so it's strictly a St. John class," said Chapman.
Firefighters in the class are learning basic firefighting and medical skills, and will practice search and rescue with live fires.
"They set a fire and do search and rescue with a live fire at the dump at Bovoni," said Chapman. "Most of the other training is done out by the (Cyril E. King) airport."
Although the addition of eight firefighters will help boost the St. John Fire Department's manpower, the department is struggling when it comes to equipment and money, according to Chapman.
Truck Repairs, New Tank Truck Adds Up
"We had a truck turn over months ago, and it's being repaired," said the St. John fire chief. "We will hopefully have it back in about six weeks."
Repairs to the truck, which overturned on Centerline Road in Estate Pastory in early February, will cost an estimated $23,000, according to Chapman.
The department is in dire need of water tank trucks, Chapman added.
"We have enough quick response vehicles, but we're hurting for tank trucks," said the St. John fire chief. "We desperately need a first pumper. The one we have here is old, and we're keeping it together with basically tape and wire; it's on its last legs."
Looking Forward To Graduation
A new tank truck is on order at a cost of $200,000, according to Chapman. Despite the department's equipment woes, Chapman said he is looking forward to the new firefighters who are about to come on the job.
"We are just looking forward to graduation, and getting more St. John people," he said.