Summer is the time when Department of Education officials address on going maintenance problems at the island's public schools, and both Guy H. Benjamin Elementary School (GBS) and Julius E. Sprauve School (JESS) buildings are slated to receive a long list of repairs.
Addressing Leaks, Drainage at GBS
At GBS, workers will construct a new septic system; repair leaks in classroom four, classroom five, the teachers lounge and store rooms; remove and replace galvanized roof panels; pressure wash the building; seal leaking cement; install a new drainage swale; and replace the existing fence and gate, according to the Department of Education's spokesperson Juel Anderson.
"The new drainage swale at the school will release the build-up of water during heavy rains which now tend to flood areas around the school," said Anderson.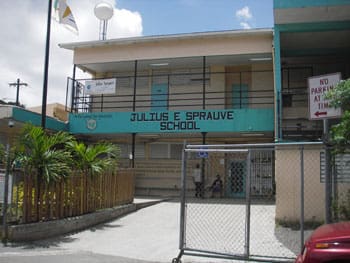 New Security Gate at JESS
At JESS, workers will construct a new storm drain system; replace galvanized roof panels on the industrial arts building; replace the existing security gate; and grade and pave the existing parking lot, Anderson explained.
The improvements are targeting serious needs, the spokesperson added.
"This summer we are addressing the critical areas as opposed to the superficial," she said.
The work is supposed to be completed by the time that students return to school in the fall. As of Friday, July 14, however, Anderson did not have information regarding which contractors, if any, had been chosen for the projects.