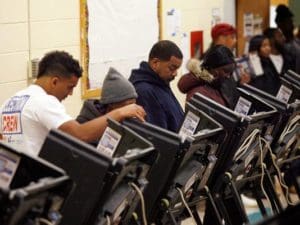 Election Season 2022 is underway, and with that in mind, members of the Board of Elections voted to update the calendar used to guide candidates and their supporters through the steps to take on their way to meet the voters.
A vote to accept a draft of this year's deadlines was one of the action items taken during a scheduled board meeting held Wednesday. Board members also agreed informally to hold one round of town meetings, territorywide.
Elections Board Chairman Raymond Williams said informing the public about what's new with voting systems, changes in poll locations and other topics is something he and others have wanted to do for a while. "We're going to meet with the executive staff (to discuss) at least one series of town hall meetings … where we can entertain questions for the electorate and share some information," Williams said.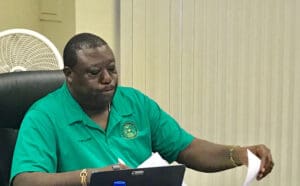 Election Systems Supervisor Caroline Fawkes circulated two proposed calendars for 2022 – one for the Nov. 8 General Election and one for a separate ballot to choose delegates for the Sixth Constitutional Convention.
"The election cycle kicked off on March 23 and 24, regarding the process for the Nomination Petition & Papers," Fawkes said. Eight potential candidates from the St. Croix district and three from the St. Thomas-St. John district attended an orientation at that time, the supervisor said.
Since then, candidates and political party officials have picked up petitions, with 30 nomination packets collected on St. Thomas-St. John; and 11 packets picked up for St. Croix.
A draft calendar for the convention was more of a sketch than a plan, Fawkes said. Lawmakers are still working out the language on a bill to establish the convention, the rules delegates will have to observe and other related matters.
How long it takes the bill to make it to final passage by the full Senate may change the deadline dates, but Fawkes told board members her staff wants to start advising potential candidates when they can pick up nomination petitions, how long they have to collect signatures and when to turn them in.
It's up to the board to approve the convention calendar, the supervisor said. Williams asked how discussions between system officials and lawmakers were progressing over the language contained in the bill.
"There still needs to be discussion about work status," Fawkes said.
Board members also heard about a new marketing campaign worked up between the election systems staff and a marketing company, which produced radio announcements in English and Spanish. Those announcements have now been distributed to local radio stations for airplay.
Fawkes also gave an update on the use of budgeted funds for operating the system through the end of Fiscal Year 2022 and the work being done to prepare a proposed spending plan for Fiscal Year 2023.