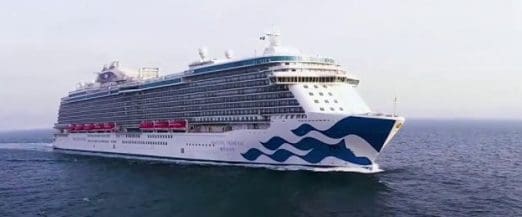 After a delayed debut season, Enchanted Princess, Princess Cruises' newest ship, will make its inaugural call to the U.S. Virgin Islands on Saturday when it berths at the West Indian Company dock on St. Thomas from 9 a.m. to 4 p.m.
A small welcome ceremony will be held on the dock at 10 a.m., WICO announced in a news release.
According to the Princess Cruises' website, it has a 100 percent vaccination policy for passengers and crew embarking on cruises from the United States.
"In accordance with health authority directives, these cruises will be operated as vaccinated cruises, as defined by the CDC, with guests and crew vaccination rates approaching 100%. These cruises are available for guests who have received their final dose of an authorized/approved COVID-19 vaccine at least 14 days prior to the beginning of the cruise and have proof of vaccination, in accordance with CDC guidelines," the company states in the Frequently Asked Questions section of its website.
"Proof of COVID-19 vaccination and the dates given will be required and will need to be shown at the terminal prior to boarding. Failure to provide this evidence will result in denial of boarding," according to the site. "As the Pfizer COVID-19 vaccine becomes available to children 5-11 years old, following the CDC's recommendation, we look forward to welcoming vaccinated guests of all ages."
The Enchanted Princess departed its home port of Fort Lauderdale, Florida, on Nov. 10 and will call on the Bahamas, St. Thomas, Dominica, Curacao, and Aruba before returning to Fort Lauderdale on Nov. 20.
Constructed with a more spacious central atrium, Enchanted Princess accommodates 3,660 passengers and 1,346 crew. Eighty-one percent of its passenger staterooms feature balconies that meet increased passenger demand for cabins that provide fresh air and an immersive connection to the Caribbean, according to the release.
"Enchanted Princess is a ship for modern travelers and delivers on the current desire to spend less time indoors," said WICO President and CEO Anthony A. Ottley. "We look forward to welcoming the ship and her passengers on this inaugural visit to the territory, and to having Princess ships resume calls to our port."
Contracted in 2016, Enchanted Princess is the fifth of Princess Cruises' Royal-class ships. She was built at a cost of $760 million and is reported to be the 100th passenger ship built at the Fincanteri shipyard in Monfalcone, Italy, according to WICO.
Her 2020 debut season in Europe and the Caribbean was delayed by the COVID-19 global  pandemic. Princess Cruises ceased operations in March 2020 and resumed sailing this summer with strict health and safety protocols and vaccine requirements for passengers and crew.
Princess Cruises is a subsidiary of Carnival Corp., the world's largest cruise operator with more than 100 ships across 10 cruise line brands.