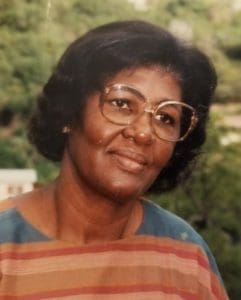 Jane Elenora (Molyneaux) Perry has died.
Jane was the daughter of John and Ida Molyneaux. She was born in Long Bay, Tortola, but migrated to St. Thomas as a young woman. Over her life, she worked domestic jobs and then as a sales clerk. She also worked at Laga Industries, the VI Hotel, and finally as a teacher in the Head Start program at Estate Thomas, French Town and Bovoni locations.
Jane was preceded in death by her parents; husband, Clarence "Bedspread" Perry Sr.; daughter, Brenda Pittman. She is survived by her children: Marjorie Williams (Alvarez), Nurbert Hughes (Carol), Julian Frett, Maureen Boyd (Joe), Clarence Perry Jr. (Laverne), Luana Jordan (Louis Sr.), John Perry (Joy-Ann) and Jeffrey Perry (Nicole); siblings: Ellen Cameron, Grace Christian, Desmond Molyneaux (Rubina) and Civil Molyneaux (Gerda); son-in-law, David Pittman Sr.; 24 grandchildren; 7 great-grandchildren; 1 great-great-granddaughter; and many other relatives and friends.
The viewing will take place at 9 a.m., followed by the service at 10 a.m., Tuesday, Nov. 23, at Wesley Methodist Church in Tutu. The burial will be held in the East End Cemetery in Smith Bay.
Funeral arrangements are by Turnbull's Funeral Home and Crematory Services.