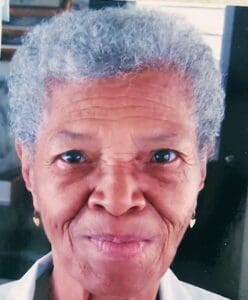 Estella Maria Sewer-Petersen of Estate Peter's Rest died on April 7. She was 85 years old.
She was preceded in death by her husband, James Ignatius Petersen.
Estella Petersen is survived by her daughters: Leticia T. Milligan Spaght, Delita M. Milligan Byam and Lucinda Petersen; sons: Liston, Verne and Delwyn Petersen; stepsons: Melbourne and Floyd Petersen; son-in-law, Rupert S. Byam; daughters-in-law: Belinda James Petersen and Sherill Phillips; 14 grandchildren; 12 great- grandchildren; as well as many other nieces, nephews, relatives and close friends too numerous to mention.
There will be a viewing held at 10 a.m. followed by a funeral service a 10:30 a.m., Monday, April 25, at Holy Cross Catholic Church. The family is requesting that attendees wear masks. Interment will be at Kingshill Cemetery.
Professional Funeral Services are entrusted to:            James Memorial Funeral Home Inc.                                Located at 4040 Estate La Grande Princesse Telephone: (340) 718-8663 Fax: (340) 718-8661