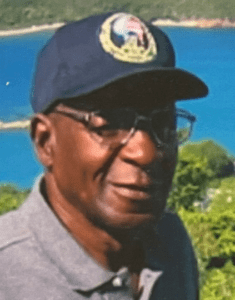 Vincent Alphonso Urgent Sr. of Estate Whim, Frederiksted, died on April 5. He was 89 years old.
He is survived by his spouse, Esther M. Urgent; daughters: Carolyn Urgent and Jasmine Urgent; grandchildren: Shereka Urgent, LaToya Urgent, Shaquille Urgent, Nandei McIntosh, Amani Alfred and Dequan Urgent; great-grandchildren: Shanijiah Urgent; Makyba Pratt, Makeem Pratt and Makela Pratt; nieces: Josephine Bruce-Wiltshire, Debra, Magda, Dawn and Margaret Bruce, Shirlene James-Jones, Marsha and Patricia Urgent, and Louise Urgent-Henry; and nephews: Joseph (Feda), Wayne (Marlo), Samuel (Malik) Bruce, Edward and Raymond (Stew) Stevens, O'Neal Doward Sr., Melvin Urgent II, Cleve, Dennis, Jamal and Kimo Urgent.
He is also survived by great nieces: Malikisha, Khalilah, Jhasiim, Oprah, Camisha, Takisha, Omara, Marisela, Twana, Gizell, Angela, Thomoiyah, Danica, Halima, Sasha, Jah Nyra, Jah Ilet, Irea, Shenique, Kadisha, Reasha, Monique, Cyd, Roshan, Shana, Breanna, Jennifer, LaShawn and Deshawn; great nephews: Linton Jr., Omar, Angel, Tashiim, K'mandii, Maliko, Andre, Ramses, Somali, Shanali, Jah Amon, Jah Zion, Clyde, Akeem, Ray, Rayvon, Oneal Jr., Jason, Jay, Jaycere and Stevie; 40 great-great nephews; 24 great-great nieces; aunts: Anna Johannes-Lindo and Gloria Adams (New York); uncle, Leon Casey (St. Thomas); daughter-in-law, Jerrilyn Morris; son-in-law, Delmo Francis; and sister-in-law, Eugenie E. Urgent-Johnson.
Other survivor include special friends and family: Francisco "Risco" Davilia, Augustin "Gus Bell" and Diane Henderson, David and Polly Benjamin, Rafael Soto (N.Y.), Louie Monell (N.Y.), Octave Benjamin (N.Y.), Angel Lopez, Curtis and Magnolia Williams, Gloria Joseph, Alma Roberts, Laverne Robles, Pamela Harris, Robert Jacobs Jr., Amy and Freddy Joseph, Arlene Abrahams, Louise Samuel, Janet Jonas, Vilma Johnson, Carmen Clendenin, Annie Edney, Rodney and Ingerberg McIntosh, Steve "Blackhead" McIntosh, Stan Moccow, St. Patrick's Adult Choir, Stewart and Shelly Schulterbrandt, Eleanor Sealey, John Abramson Jr., Charlene Matthews, Shawn Ventura, Sara Gordon, Gwendolyn Lucas, Rita Powell, Herbert Adams Jr., Ronald Adams, Angela Adams-Smith, Alexis Adams, Joanne Adams, Nancy Soto, Jeanne Garcia, Martha Eugene, Alvin Milligan, Caroline Fawkes and American Legion Post 133, Dorothy McIntosh, Estelle McIntosh, May Louise McIntosh, Dawn Rogers, Jean Prince, Candida, Rene Torrens,  Linton Wiltshire Sr., Tisser Bartley and family, Shaquille Fawkes, Patrice Bramble, Ilda J. Allen, David Bruce, Craig "Dopey" Fawkes, Derek "Jah Bat" Bastian, Dennis and Allan Vanterpool, Nadine Vanterpool, Cynthia Fenton, Jay Watson, Sheryl Roberts, Celethia Guy, Desiree Jordan, Agnes "Sheba" Luke, Ashley Clendenin, Laurena McIntosh, the Cornelius family, Johannes family, Mason family, Joseph family, Rissing family, Goodridge family, Gordon family, Drummond family, Samuel family, Ruby, Josie, Kim, Beverly, Anthony (Scurge) Urgent, Joyce Schuster and family, Aurelia Richards and family, and Beverly Nesbitt and family.
A viewing will be held at 9:30 a.m. followed by funeral service at 10:30 a.m., Thursday, April 21, at St. Patrick's Catholic Church. Interment will bd at Frederiksted Cemetery.
Professional Funeral Services are entrusted to:                                      James Memorial Funeral Home Inc.                                                        Located at 6AA La Grande Princesse
Telephone: (340) 718-8663 Fax: (340) 718-8661