Ten Tables is firmly established as one of St. John's finest up-scale restaurants, and the dining experience at the eatery has only improved since executive chef Paul Trujillo came on board in March.
Although Trujillo simply "tweaked" some of the original menu items instead of coming up with his own spread, he brings with him years of experience, a love of cooking and respect for food that are evident to anyone who dines at Ten Tables. Trujillo began a career that would take him from Europe to South America to Alaska when, at age 13, he fibbed his age on an application in order to gain em-ployment at a restaurant.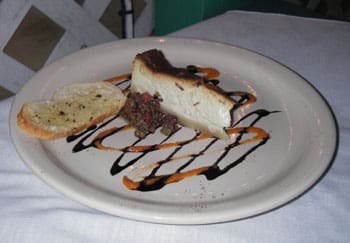 Adventure Cruise Ships
Trujillo, a graduate of the Culinary Institute of America in Hyde Park, New York, enjoyed a five-year stint on Adventure Cruise Ships — a job that took him to Brazil, Holland, Hungary, and down the west coast of
North America, from Alaska to California to Mexico.
"I don't miss being on cruise ships," said Trujillo. "Five years was enough."
Trujillo, who was accustomed to having dishwashers to clean up while he cooked, got quite a surprise when he arrived in Europe.
"Working in Europe, I had to wash my own pots and pans," he said. "They did have people who washed the silverware and china, but that was a rude awakening for me."
Trujillo ended up working as an executive chef in Syracuse, New York, when he made the decision to move to St. John.
Respecting Food
"I was working at a high end steak house in Syracuse, and I was tired," he said. "I needed a break. Moving here was the greatest thing I ever did in my life."
Trujillo began working under Ted Robinson, the popular chef behind Tage.
"Ted woke me up to cooking fish," said Trujillo. "I learned respect toward food from Ted."
Trujillo gained even more ex-perience at several of the island's finest restaurants, including Chateaux Bordeaux, Asolare and Rhumb Lines.
"You have to treat food correctly," said the executive chef. "If you don't know the methods, it doesn't make sense to learn the recipe."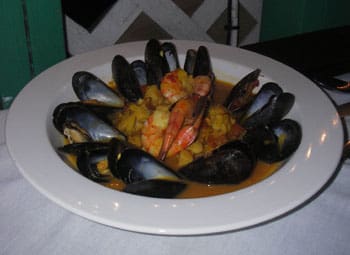 After nearly 15 years of working as a chef, Trujillo decided to take a break in 2005, when he took a job as a landscaper. This, break, however, didn't last long.
Taking Over Ten Tables
"I started helping out at Rhumb Lines," said Trujillo. "I was supposed to do three nights a week, but I was doing more like five and six nights a week."
It was around this time that Ten Tables came on the market, and advice from a friend finally pushed Trujillo to look into taking over the restaurant.
"He said, 'Ten Tables is doing so well, you should take it,'" said Trujillo of his friend. "'You're stupid if you don't take it.'"
One phone call and two weeks later, Trujillo was in the kitchen at Ten Tables, and has been enjoying his love of cooking ever since.
"I like cooking because you get to eat for free all night long," he said. "Food doesn't talk back to you."
All joking aside, Trujillo takes his position in the kitchen seriously, often keeping watch over the dining room from the curtain-framed kitchen window, making sure that his customers are satisfied.
Nothing Pre-made
With Trujillo's expert presentation, unique food combinations and competitive prices, it's hard not to be satisfied while dining at Ten Tables.
None of the food at the restaurant is pre-made, and everything is fresh, from the locally caught fish, to the salads featuring locally grown Josephine's Greens.
Appetizers include the roquefort cheesecake with roasted garlic-herbed toast — a popular dish among men for its strong flavor, according to Trujillo — and the fresh local tuna tartar and cilantro sorbet, which can be piled on top of the accompanying ginger-scallion waffle for a unique combination of flavors. Appetizer prices range from $10 to $13.
Entrees at Ten Tables include Trujillo's favorite, the bouillabaisse, featuring local fish, mussels and shrimp in a light shrimp broth, and the restaurant's signature dish, the rosemary and honey mustard crusted rack of lamb, served artfully around a helping of garlic mashed potatoes. Entree prices range from $26 to $38.
Success Thanks To Locals
Business is bound to be good at Ten Tables with the upcoming tourist season, but Trujillo knows the real reason for the restaurant's success.
"Locals make Ten Tables successful," he said.
Ten Tables is located in the Lumberyard Complex, and is open for dinner Monday through Saturday from 6 to 10 p.m. For reservations, call 693-8708.
Recipe: Bouillabaisse
Serves Two
Ginger shrimp broth: sautee one small yellow onion, diced; one-quarter cup ginger slices; two cups shrimp shells; two tablespoons tomato paste; and quarter cup tomato juice. Simmer with one cup white wine, then add one gallon water. Simmer for 45 minutes — don't boil. Strain and cool.
Sautee one-half teaspoon of the following: ginger, garlic, diced scallions; three tablespoons diced tomatoes; red onion, leeks, red bell pepper; one tablespoon diced chorizo in Colavita oil. Add 20 mussels and two ladles of ginger shrimp broth. Cover, turn heat down and simmer two to three minutes.