If anyone had any doubts, it's now officially Yule Tide.
"We absolutely declare it holiday season," said Steve Simon after the conclusion of the second annual St. John Christmas Music Festival and Parade, which Simon organized and presented.
[adrotate group="6"]
The festival kicked off at the Winston Wells ball field on Saturday evening, December 2, with performances by R&B recording artist Michael Dunston and local musicians the Jazz Islanders and Paradise People.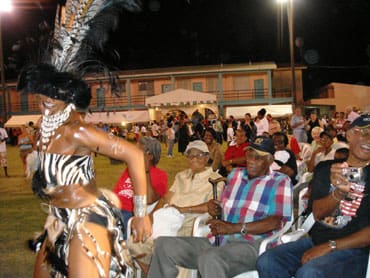 It seemed like all of St. John's youth came out on Sunday evening, December 3, for the Christmas Parade.
JDPP, Leapers and More
The Juvenile Delinquency Prevention Program marching band and tromp group, Guy Benjamin School students, Love City Leapers, Love City Pan Dragons and the Middle Aged Majorettes took to the streets from Mongoose Junction to the ball field.
About 200 eager children lined up to receive presents from Santa's helpers before settling in with their parents for an evening of entertainment by Echo People and the "Queen of Gospel" Maryel Epps.
Simon declared the event a success.
"Spectacular" Event
"Everything was spectacular," he said. "It was truly one of the most joyful experiences I've ever had living on St. John. To look around the ball field and see so many people in our community celebrating the holidays together — it was wonderful."
"There was an enormous amount of people who came out over the weekend," Simon continued. "It was a St. John family reunion. I can't wait until Christmas now."