Four years ago, Hurricanes Irma and Maria made short work of solar panels on the U.S. Virgin Islands' District Court buildings and properties.
Now, in step with the Biden administration's dual push for renewable energy and for projects mitigating the effects of climate change, they are being replaced with upgraded systems.
Work is already well underway on the Ron de Lugo Federal Building in Charlotte Amalie, which houses the District Court on St. Thomas. On St. Croix, work recently started on the site of the Almeric L. Christian Building and District Court. Both projects are slated to be completed by April.
The U.S. Government Services Administration has contracted the company that set up the original systems, Schneider Electric, for remedial work. The company is doing similar repair and mitigation work for the federal government in Puerto Rico.
Alison Rucker, Schneider Electric's performance contracting manager, said the company assesses energy needs and consumption in buildings and advises owners accordingly.
"We look for cost-saving opportunities," such as replacing old lighting with more energy-efficient systems and implementing renewable energy systems like photovoltaic, or solar cell, systems, she said. With long-term projects, the initial cost – advanced by a third party – is offset over time by energy cost savings made each year.
"We guarantee they'll save" money annually.
Sarah Horowitz, account director at LEWIS, Schneider's public relations firm, put the annual cost savings for St. Thomas at $229,000 and for St. Croix, $325,000.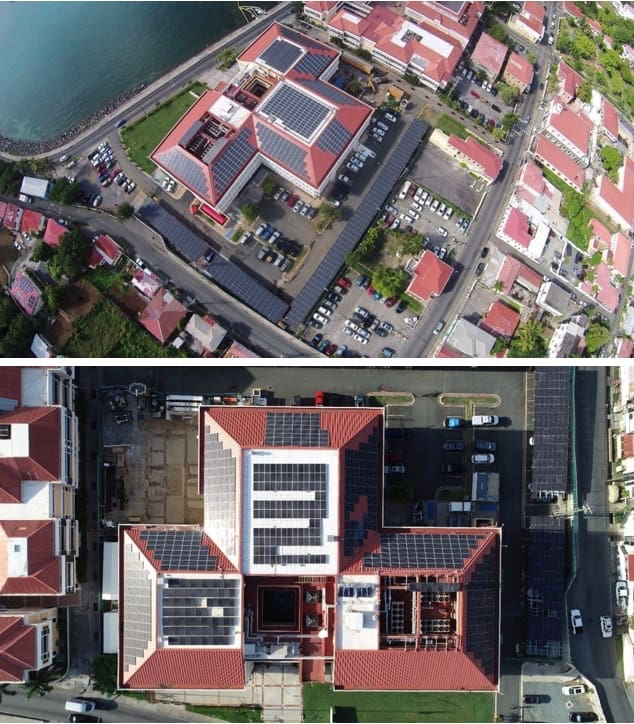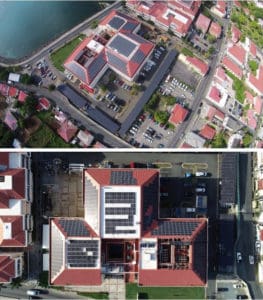 The original photovoltaic systems were installed in 2013 on St. Croix, on property adjacent to the court building, and on St. Thomas on the roof of the court building and in a portion of the parking lot.
The systems had been operating for several years, supplying most of the electricity needed by the courts, when two Category 5 hurricanes hit the Virgin Islands over a two-week period in September 2017.
"The hurricanes destroyed both projects," Rucker said. Despite the damage, the courts were able to continue functioning, transitioning back completely to the V.I. Water and Power Authority. "We never took them off the grid."
Now the damaged solar projects will be replaced with an upgraded system, designed both to be more energy efficient than the first and more resistant to hurricanes.
Before the storms, the St. Thomas solar system was generating 275 kilowatts; the replacement system is projected to produce 378 kilowatts, according to Horowitz. The St. Croix base system was producing 462 kilowatts; the new system is designed to produce 497 kilowatts.
Both systems are meant to withstand winds of up to 180 miles per hour, well above the threshold for a Category 5 hurricane, which is 157 miles per hour.
With scientists linking a trend of more intense storms to climate change, the project falls under President Joe Biden's initiative for climate change mitigation.
The subcontractor for both V.I. solar systems is Helios Energy. On St. Thomas, there is also a roofing contractor, Ecological.
As of Friday, the overall project on St. Croix was 10 percent complete and the job on St. Thomas was 24 percent complete, according to Robin Croft, public affairs officer with the Office of Strategic Communications for the U.S. Government Services Administration.
Demolition on St. Thomas was 95 percent complete, she said. The necessary electrical permit has been approved. A partial shipment of solar panels has arrived on St. Thomas and the remainder are ready for shipment. Installation of equipment will begin in October. Other progress includes the scheduling of inspections and about 50 percent completion of flat roof repairs.
On St. Croix, demolition will begin in October, she said. Meanwhile, permits have been approved by the Department of Planning and Natural Resources, 60 percent to 65 percent of the solar panels and all of the solar inverters have arrived on St. Croix and were "finally released today from USVI port." More equipment is expected to be shipped on-island in October and the installation of electrical equipment and inverters will start in November.
Horowitz pegged the cost of installation at $6.6 million for St. Croix and $7.7 million for St. Thomas. That cost does not include management costs for the life of the projects – 20 years for St. Croix and 25 for St. Thomas. Both projects are federally supported and do not require local funding.