The topic of discussion repeatedly turned to the new Post Office location at a Tuesday evening, May 30, town hall meeting with U.S. Postal Service and U.S. Customs officials, organized by Delegate to Congress Donna Christensen to discuss mail and customs service.
A contributing factor to the island's slow mail delivery is the Cruz Bay Post Office, which can no longer serve St. John needs, according to St. Thomas Postmaster Robert Allen, who has been on the job for just over one year.
"St. John gets more packages than some towns in St. Croix," said Allen. "When I saw the conditions the St. John postal employees work under, I said, 'what an awesome task it is to deliver mail here.'"
Lease Has Been Worked Out
A lease agreement has been worked out in the past few weeks between the Post Office and developers of the planned parking garage and vendor's plaza to be constructed across the street from the Cruz Bay Creek, said Keith Richards, assistant to the governor for special projects.
"Two to three weeks ago we came to an agreement for a lease," said Richards at the Tuesday evening town meeting. "We have to work out the fine details for the construction arrangement. The contractor has been chosen, and the facilities will be built to Post Office specifications."
The contractor chosen to build the parking garage and vendors plaza has experience building to Post Office specifications, according to Richards.
"We are prepared now to begin the design of the facility," he said. "We felt it was important to keep the Post Office in Cruz Bay, and we are committed to do whatever is necessary to make that happen."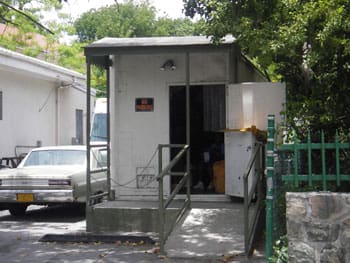 Modern, State-of-the-art Facility
The facility will be modern and state-of-the-art, according to Allen. "Right now, it's a hazard trying to get your parcels from the Post Office," he said. "I'm amazed at people crossing the street with their packages, and I stop to help them, even when I'm in my suit. The new facility is a very big project for me, and I'm very proud."
Several residents questioned Richards on the specifications of the new facility — which many residents oppose.
"That area is outlandish for the Post Office location," said St. John resident Lorelei Monsanto. "Where will the local vendors go? St. John is about to burst from a lack of planning."
The new facility will have close to 100 parking spaces and three levels, according to Richards. The Post Office, vendors and some parking are planned for the first level, with the second and third levels reserved for parking, he explained .
An elevator is included in the plans, said Richards, who added that approximately 2,000 square feet has been allocated for vendors, he added.
"We are also discussing having vendors at the old Post Office location," said Richards.
Opportunity Could Be Lost Post Office representatives stressed that if the new Post Office does not get space in the parking garage within a certain time frame, the opportunity could be lost and searching for a new location could take years.
"The Cruz Bay Post Office is not in ideal condition," said Lou Demeo, U.S.P.S. Operations Manager based in San Juan. "The number of parcels coming in to St. John is not going down. When do we move forward?"
Residents' suggestions of different locations for the new Post Office facility are too late, said Allen.
"I'm not going to let the project die at the last minute," he said. "I needed these ideas a year ago. To us, the location is already there."
The Post Office considers the facility an "existing location" because it will not contribute financially to the construction of the building, Allen continued.
Facility Size Concern
"People aren't going to like this," said Senator at Large Craig Barshinger. "The last expansion you did about 10 years ago was too small the day it opened. I think you will find that this new space is too small for you the day it opens; I'm just very worried."
The Post Office has done a thorough assessment of the size of the facility it will need, according to Allen.
"I know how many parcels you get every day, and how many you get during Christmas," said Allen. "I know the square footage that is required. We are a business that learns from our mistakes."
Some people who were for the parking garage and vendors plaza several years ago are now against it, according to Richards.
Motives Questioned
"All of a sudden, people who used to want this parking lot don't want it anymore, but I'm not going to question their motives," he said. "'Perfect' has become the enemy. 'Perfect' means that you must conform to what I believe alone, not what the community wants."
St. John Department of Public Works Deputy Direc-tor Ira Wade did question the motives of some of those opposed to the new facility.
"Some people now have a space that vendors could rent, and they want to keep people from having a reasonably priced space," said Wade. "Be logical now. We have to move forward; we can't wait another year."
Only a few U.S.P.S. projects across the nation are receiving capital funds for improvements, according to Demeo.
"This project will not be comparable to anything else in the country," said Allen. "This thing is moving faster than I've seen any other project move. It's moving by leaps and bounds."
The facility is just one of many parking garages that are being planned for St. John, according to Richards.
"You need facilities at both locations — Inspection Lane and the creek," said Richards. "It took us 10 years to get to the point where we will build the first of many. If we don't act now, it will take another five, six years for a facility to be built, and we'll lose our funding."
"What is it that you want?" Richards continued. "You have a need for the Post Office to remain in Cruz Bay. There are a lot of competing interests in this very room, and one interest shouldn't dominate the others; everybody will get a little bit."
One resident expressed her support for the project.
"We are never going to get it started," said St. John resident Joan Thomas. "Let's make a move. I wish we could start this week."
Although most of the parking spaces in the new facility will be paid parking, Richards said he will ask the Post Office to lease some spaces on the first floor so their customers can park for free for a short period of time while doing business at the facility.
A town meeting with those involved in the parking gar-age and vendors plaza project will be held sometime in June, added Christensen.
Plans will not be made available to the public for review prior to the meeting, because they have not yet been drawn up, said Richards, who added that the meeting will allow residents' input on the design of the facility.