A light sprinkling of rain did not stop the American Legion Viggo E. Sewer Post 131 from honoring fallen soldiers with a memorial service and parade on Memorial Day, Monday, May 29.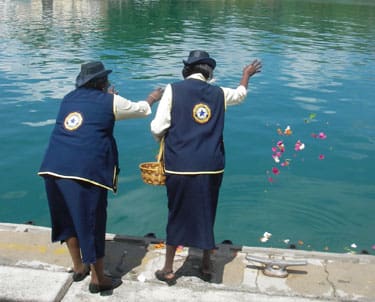 American Legion and Auxiliary members held a memorial service at the National Park dock at 10 a.m. Monday morning, scattering flower petals into the sea in remembrance of fallen soldiers.
The American Legion and Auxiliary then proudly marched through town, led by post commander Elmo Rabsatt, past the Franklin Powell Sr. Park and Wharfside Village.
Several residents and tourists gathered at the Cruz Bay park to watch and salute the group of veterans, who paraded behind a van playing patriotic music. The procession was followed by a St. John Rescue truck decked out in patriotic gear.
The parade continued past Grande Bay Resort and came to a stop at the cemetery at Gallows Point, where Rabsatt honored veterans by laying a floral wreath.
Memorial Day, which was officially proclaimed in 1868, is celebrated as a day of remembrance for America's fallen soldiers.