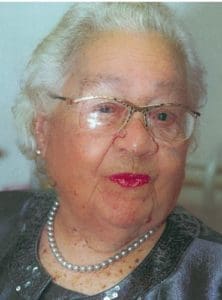 Fidelina Garcia Belardo, also known as "Doña Fide," died on Dec. 26, 2021.
She was preceded in death by her son, Luis A. Garcia; and grandchild, Nowel Garcia.
She is survived by her daughters: Aida Garcia Mercado and Myrna Velazquez; son, Mario Garcia Jr.; grandchildren: David Velasquez, Daniel Velazquez, Damarie Velazquez, Giovanni Garcia, Alejandro Garcia, Cassandra Garcia, Luis Garcia and Rodolfo Garcia; sister, Luz Maria Soto Millan; brothers: Angel Luis Soto and Angel Cordero Christian; and numerous great-grandchildren.
She is also survived by sister-in-law, Felicita Soto; son-in-law, Alejandro Mercado; daughter-in-law, Elsa Garcia; special friends: Mr. and Mrs. Moises Figueroa, Mrs. Negra Lopez, Mrs. Norma Blackwood, Mrs. Tabita Nieves, Mrs. Glenice Williams and Mrs. Leotha Cuffy; as well as nieces, nephews, and other relatives and friends too numerous to mention.
A viewing will take place from 6-8 p.m., Tuesday, Jan. 11, at James Memorial Funeral Chapel.
The funeral service will be held at 10:30 a.m., Wednesday, Jan. 12, at St. Patrick's Catholic Church, Frederiksted.
Due to the COVID-19 pandemic and public health regulations, all attendees must wear a mask and adhere to social distancing guidelines.