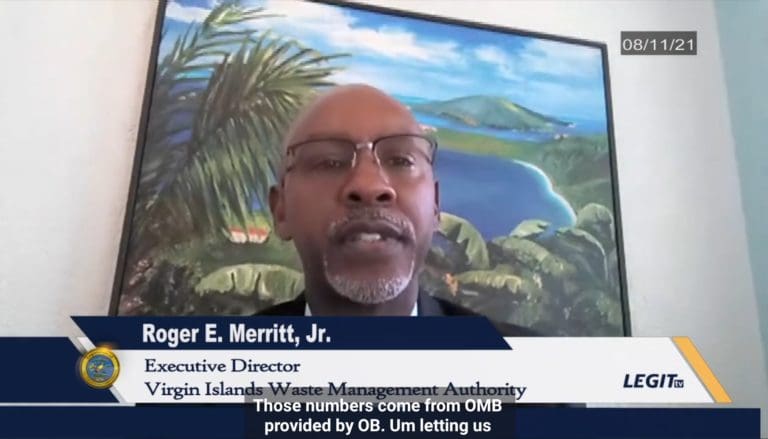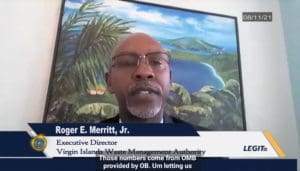 Finance Committee members grew frustrated with Waste Management Authority officials during Wednesday's budget hearing where they were told funding appropriated last year for new hires was repurposed to pay off the authority's outstanding debts.
The information came after questioning from Sen. Donna Frett-Gregory who said last year the authority was appropriated "some $31.5 million" but had only obligated $27 million.
"I am not following your numbers at all. Your numbers are off because if you have 45 vacancies you should have been able to break down and say of your 45 vacancies x-million is tied to General Fund per the appropriation approved by this body. X-number is tied to federal funds and whatever other funds you have … We need to have that information because if you have $27 million that you have already obligated, there is no way you can have $3.3 million in vacancies and still being able to operate," Frett-Gregory said.
Waste Management Authority Executive Director Roger Merritt Jr. said it was likely incorrect because, "The post-audit is not the most up to date, so we will just have to provide that information." But Frett-Gregory was using numbers provided in Waste Management Authority testimony at the beginning of the hearing, not the post-audit report.
"The information you are providing does not align. So, I need to get a breakdown. What are your General Fund true vacancies?" Frett-Gregory said, but her question was met with silence from the testifiers.
"These number you're giving us, your number don't add up. What you are doing here does not add up. So yes, I am a bit frustrated because the information that is in front of me is confusing, and I'm not easily confused when it comes to these numbers," Frett-Gregory said. "I really think Waste Management needs to get their act together in a really serious way."
Sen. Kurt Vialet also questioned the information given to the committee. He told testifiers that he looked at the last fiscal year audit report and, "We did fund the Waste Management Authority at the amount that was recommended, that included all the new vacant positions … more than 25 vacant positions."
Vialet was told the department actually hired only 21 individuals and had lost 14.
"So, that's only seven. So, you have like 50 funded vacancies on the 2021 budget … have you repurposed some of those monies to pay off outstanding bills since you have not been able to bring individuals on?" Vialet asked Merritt.
"Yes, that's what we've been doing, using that money to pay outstanding bills," Merritt said.
But Vialet said this causes numerous issues, for the budget and for the residents of the Virgin Islands who are using the service.
"We need to fill the positions because we are funding them every year so that we can have sufficient individuals to be able to complete the tasks, and we are not getting individuals on board," Vialet said.
Many committee members said they would need accurate and complete information from the Waste Management Authority before ironing out the territory's budget.
Tipping Fees
The Waste Management Authority will be hosting town hall meetings throughout September to advise the public about the implementation of tipping fees next year, fees that the authority had wanted to initiate in August 2017, and Merritt has been a proponent of in past Senate hearings.
"I know there is going to be questions and comments from the public and the business community regarding those fees. So, once we answer those questions and make sure everyone understands what the game plan is and how the fees are going to be implemented," Merritt said then the authority can better assess how much revenue would be generated.
In 2017, the first volume-based tipping fee was approved by the Public Services Commission and began in the St. Thomas/St. John District, generating roughly $17,000 in one day, Merritt said.
Merrit said the entire process was halted for two reasons: a disagreement with the St. Croix solid waste service providers, and destruction caused by hurricanes Irma and Maria that same year.
The Finance Committee pressed for an estimate of the projected revenue to be collected from the tipping fees, as it would offset the coming fiscal year budget, and Merritt said the projections were not included.
"We have a general idea, but once we implement the fees there is going to be some of the contractors who do some things differently and some of the businesses are going to do some things differently," Merritt said. The collected fees could equate to as much as $3 million or more annually but the authority would "have a better idea what that number is as we begin the implementation of it," he said.
Once the tipping fee is instated, Merritt said Waste Management will be looking into fees for residents who dispose of their household garbage because currently U.S. Virgin Islanders pay nothing for the service, whereas Merritt said every other jurisdiction he knew of charged.
Sens. Marvin Blyden, Samuel Carrion, Donna Frett-Gregory, Dwayne DeGraff, Javan James Sr., Janelle Sarauw and Kurt Vialet were present for the hearing. Additional non-committee members also attended the hearing.