After several inmates at the John A. Bell Adult Correctional Facility in Golden Grove on St. Croix tested positive for coronavirus in the past few weeks, the Bureau of Corrections is doing mass testing, according to a release from Bureau of Corrections spokesperson Kyza Callwood.
According to the Bureau, their medical staff have reportedly conducted three waves of mass testing for all 133 inmates/detainees and tested all 55 correctional staff members and 38 civilian staff at the prison as of Aug. 11. Staff members have also reportedly been required to show proof of vaccination, and those who are still unvaccinated will be required to show weekly proof of a COVID-19 negative test.
Of seven previously reported positive cases, there are now four recovered cases that have now tested negative, leaving three positive cases, according to the release. On Tuesday, one staff member tested positive as part of their regular testing protocol. That person did not report for duty. No one is hospitalized as of Aug. 11.
"The risk of a COVID-19 outbreak or resurgence at a prison or jail increases whenever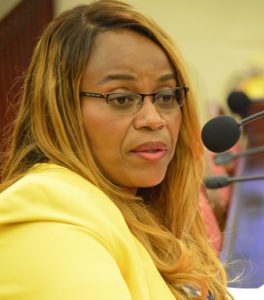 there is a wide community spread of COVID-19 coupled with the movement of staff and prisoners in and out of a facility," Corrections Director Wynnie Testamark said in the Bureau's release. The Bureau reports it has taken steps to minimize the COVID-19 risk at its facilities in accordance with CDC guidelines.
The prison is still on lockdown, and officials say they are doing continuous disinfectant and cleaning. Inmate movement has been restricted within the facility. All visits by vendors and all inmate transfers have been suspended until further notice. In-person visits, work details, and prisoner furloughs remain suspended, as they have been since the start of the pandemic. Court hearings held virtually remain unaffected. Attorneys may visit with prisoners via secure video conference by contacting the facility to schedule a video visit, the release stated.