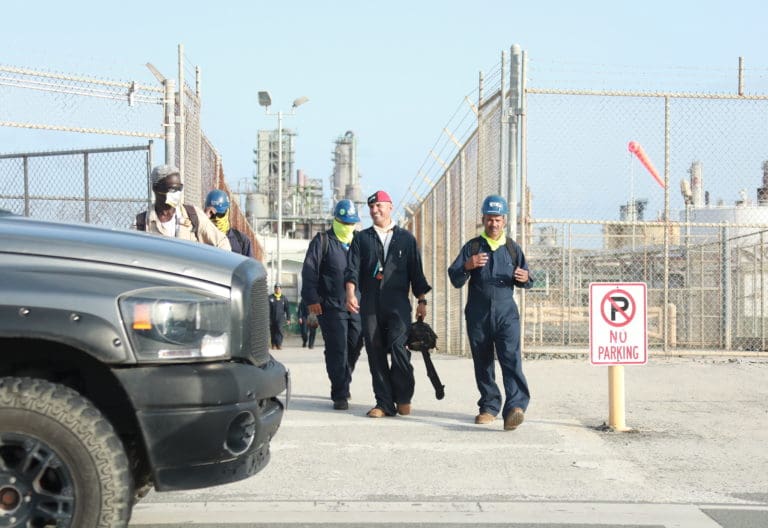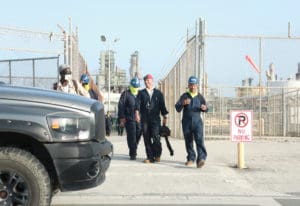 With St. Croix's Limetree Bay Refinery facing an uncertain future in bankruptcy court, V.I. Delegate Stacey Plaskett is surveying those affected by its closure – now and perhaps for years to come – to share the economic impacts with federal agencies that could soften the blow.
"Presently, members of Congress and the Biden administration are very focused on passing the Infrastructure bill, which has particular focus on investing in former industrial and energy sites that are now idle," Plaskett responded by email to Source questions.
The $1 trillion bill funding road, bridge, broadband and climate change projects passed with bipartisan support on Tuesday.
"The infrastructure plan invests $21 billion in environmental remediation, the largest investment in addressing much of the legacy pollution that has historically harmed the public health of communities and neighborhoods of color. It also creates good-paying union jobs in hard-hit energy communities and advances economic and environmental justice. Additionally, the aged electric grid we have in the Virgin Islands needs urgent modernization. With the right investment of federal dollars, we would have the ability to upgrade our power infrastructure and make a meaningful, lasting transition to renewable energy sources," Plaskett said.
Those investments are within St. Croix's reach because of an executive order, Justice 40, that steers 40 percent of funds for environmental projects to disadvantaged communities.
A question asked and debated for generations
Plaskett's survey follows another that assessed the refinery's impact on Crucians' health and environment. Organized by Bennington College's Center for the Advancement of Public Action, the Crucian Heritage and Nature Tourism Foundation, V.I. Good Food Coalition and St. Croix Environmental Association, the Community Impact Survey documents accounts of intense physical reactions, hospitalizations and three potentially related deaths from the refinery's emission events, mapped by location, as reported by over 500 respondents.
Plaskett, who has been doing a lot of listening to stakeholders about Limetree, heard the groups' information and concerns in a Zoom meeting. She was also to speak at a recent EngageVI town hall reimagining the Crucian economy, but didn't, due to a prior commitment, her office said.
Her survey asks, as generations of politicians have: "Taking into account the environmental concerns raised because of Limetree's emissions and the economic impact Limetree's presence had on our community, do you believe the closure of the refinery is in the best interest of St. Croix?"
Plaskett and the EngageVI audience share a keen interest in what federal Superfund programs could do for St. Croix, however.
"It is now a widely known fact that proximity to a superfund site can lead to elevated levels of lead in children's blood. I believe that the Limetree site would be a good pilot for funding from the federal government for a number of these (infrastructure and Superfund) initiatives," Plaskett said.
On St. Thomas, a Superfund site in progress
The territory currently has one Superfund site, the Tutu wellfield on St. Thomas: a 108-acre plume of contaminated groundwater discovered in 1987.
The refinery's legacy contamination is being addressed under a different program, the federal Resource Conservation and Recovery Act, because the site is still considered active, EngageVI attendees recently learned from their regional Environmental Protection Agency chief Walter Mugdan.
For St. Croix residents concerned about displaced refinery workers, a major appeal of Superfund is its job training initiative, which prepares participants for a variety of environmental careers.
"We're not able to speculate about what might happen in the future with regards to the Limetree Bay refinery," the EPA responded as to whether the refinery could qualify for the Superfund if it's permanently shut down.
But, on St. Thomas, "Yes, the U.S. Virgin Islands can access the Superfund job training initiative," an EPA spokesman said. "Generally, EPA leverages Super JTI during the remedial action phase at large sites on the National Priorities List. Our recent proposed plan for Tutu Wellfield is currently at an earlier step in the Superfund process."
Despite years of effort, the toxic chemicals beneath the wellfield – especially the Curriculum Center located at 386 Smith Bay Road – are so resistant to clean up that the EPA, together with the territory's Department of Planning and Natural Resources, proffered an accelerated program that's still open for public comments.
Find the plan here, and send comments by Aug. 13 to Caroline Kwan at kwan.caroline@epa.gov or U.S. Environmental Protection Agency, 290 Broadway, 18th Floor New York, NY 10007.
Plaskett's survey is still live on her website. To participate, click here.
All responses are anonymous.
"The information that we're gathering to share with other members of Congress and the Biden administration will give an idea of the economic impact/job losses in the territory and what the loss of this source of revenue has done to our economy and demonstrate the dire need for the remediation efforts that the infrastructure plan is focused on providing," Plaskett said.
Data from the survey will be made available on Plaskett's website.