What better way to start a day than with a cup of locally-grown and brewed bush tea with a light and crispy whole wheat johnny cake?
If that sounds tempting, stop by the recently opened Fire Foods, which is an Ital and vegan carry-out food stand, located in a white trailer on South Shore Road just past the triangle in Coral Bay.
Need for Clean Food
"Clean, good food like this was needed," said Kalon Frett, half of the two-man team behind Fire Foods. "I saw this opportunity and went for it."
Cooking a variety of healthful cuisine, including fresh fish, vegetarian and vegan dishes, is part of life for Frett and his business partner J'beth Harrigan. "I was always into cooking," said Harrigan. "As a youth I was always cooking for my family. It just came from within me."
"Healthful eating leads to healthful thinking," said Frett. "It's just getting the positive vibes and living them."
Fire Foods opens early so residents can grab a cup of their famous bush tea before heading off to work for the day.
Breakfast Offerings
Starting at 6:30 a.m., Frett and Harrigan can be found behind the counter at their food stand serving up piping hot cups of tea made from herbs and bush grown in their garden. Their "fire" cakes, wholewheat johnny cakes that are amazingly non-greasy, should not be missed for morning sustenance.
Creamed oats, saltfish and soy pates are also available during breakfast hours, which last until the food runs out.
"Everyone comes for the soy pates and fire cakes," said Frett. "We just serve them until they're gone."
After the morning rush, Harrigan and Frett are back at it, whipping up dishes to be served for lunch, which are usually available between 10 and 11 a.m.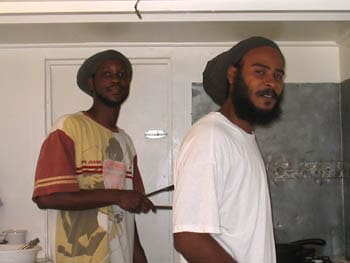 Vegetarian, Fish and Vegan Dishes
Lunch dishes range from vegetarian pasta to the popular "vital ital," made from a variety of provisions including carrots, corn, tania, potatoes and cabbage which are stewed down and cooked in a traditional African clay bowl called a yaba pot, Frett explained.
"The vital ital is healthy and delicious," Frett said. "It's not just good for you, it makes you feel good."
Other lunch fare includes king fish baked, broiled or stewed and tofu, prepared in a variety of ways.
"Our famous tofu is what everyone loves," said Frett. "We do it stewed, curried and barbequed. It is served with brown rice, season rice or peas and rice."
Other side dishes available are sweet potato stuffing, mashed potatoes, mixed vegetables and plantains.
Garden Fresh
Many of the vegetables served at Fire Foods come directly from Frett and Harrigan's garden.
"We have our own garden," said Frett. "The bush tea is made from our garden. Also, a lot of the veggies come straight from our garden and go right to your plate."
To wash down your lunch, a variety of local drinks are available from passionfruit, tamarind and soursop, to peanut and banana punch. There are other beverages for sale as well, but Fire Foods does not serve soda or alcohol.
With prices ranging from $7 to $10 for lunch meals, all of these healthy dishes are good for the wallet as well. Local drinks run $3, fire cakes cost $1.50 and pates are $2.50.
The Fire Foods owners pride themselves on making positive and healthy dishes.
"It's all about the vibes," said Frett. "It's positive food, and you can taste and feel that."
The positive vibrations emanating from Fire Foods along with the delicious culinary offerings have been drawing a steady stream of customers to the food stand.
Big Plans for Future
"It's been going really well," said Frett. "Everybody loves our food."
Harrigan and Frett are not about to rest on their laurels, though. These two have big plans for the future.
"Look out, there is a lot more coming from us," said Frett. "We will offer more food cooked in a variety of ways. We're going to take this international and have franchises across the globe."
Before Fire Foods chain stores start springing up on every corner next to Starbucks, be sure to check out where it all started in Coral Bay. Fire Foods is open Mondays through Saturdays from around 6:30 a.m. until 7 p.m.