By Eliza Magro
Caribbean pate is not for spreading on crackers during happy hour, instead it is a quick practical snack made and enjoyed here in the islands.
Between busy days full of appointments, meetings, jobs, family, friends, exercise, swimming at the beach, and laundry it's often difficult to find time to cook a real meal. Caribbean pate is the local solution. One can choose between beef, chicken, shrimp, salt fish and more.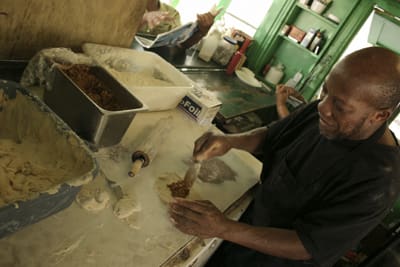 The fillings are seasoned and spiced with a combination of sauteed onion, garlic, celery, green pepper, and herbs before going in the shell.
The pastry shell is simple dough made of flour, salt, water, sugar, and baking powder. White flour is most commonly used for the dough, but there are some health-conscious people, who prefer to use whole wheat flour instead.
To make these practical pates roll out a small ball of dough, and place the desired filling in a crescent moon shape on the dough. Fold over one side of the dough to meet the other, cut any excess dough off with a knife or pizza cutter, then take a fork and press the edge of the pate together. It is now ready to be fried, which is the typical method of serving pate in West Indian cuisine; however they are also sometimes baked.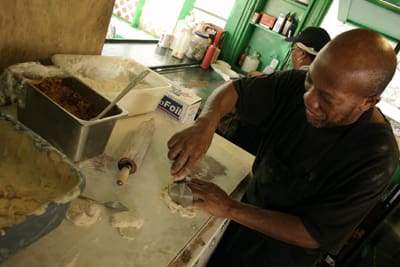 Here on St. John, pates can be enjoyed at Hercules Pate Delight in Cruz Bay and at Jewel's Kitchen in Coral Bay. So when the day gets too busy to cook a meal and hunger arrives, stop by and enjoy a pate or two. It's a quick, simple and delicious snack.