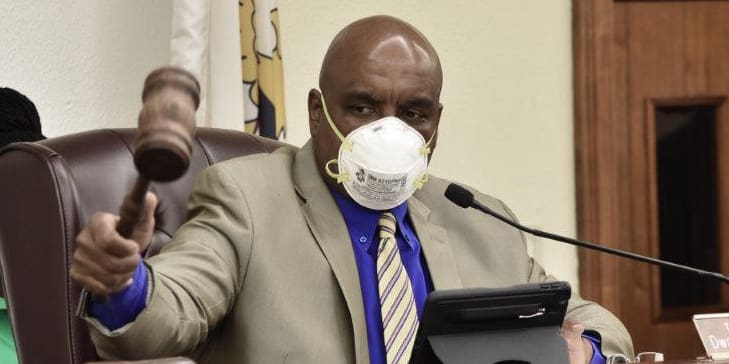 More than a year ago, when Fire Service Director Daryl George Sr. testified at the Senate, the senators expressed concerns about whether merging Emergency Medical Services with the Fire Service in the territory could be done smoothly.
On Tuesday, as George again appeared before the Committee on Homeland Security, Justice and Public Safety, some senators still had the same concerns.
The merger has been under consideration for almost a decade. Gov. John deJongh planned to accomplish it in 2013. That did not occur, and it was not a priority in the administration of Gov. Kenneth Mapp. Gov. Albert Bryan Jr. again made it a priority when he took office.
Senators Tuesday were also concerned about whether firefighters were getting the pay hikes they had been promised. The pay hike situation, according to George, will be resolved before the merger situation.
Under the questioning of Sen. Dwayne DeGraff, who chaired the committee meeting because committee Chairman Sen. Steven Payne Sr. has been diagnosed with COVID-19, George said all the documentation needed for the pay increases to be implemented was turned over to the Office of Management and Budget last week. He said that within a week of getting OMB approval firefighters will see the negotiated raises in their paycheck. He also said the pay raises would be paid retroactively back to Oct. 1, 2019.
In June of last year, Sen. Novelle Francis Jr. asked George what was being done with $385,000 set aside in the budget for firefighters to get a raise. George said the OMB director wanted more documentation before signing off on the raises.
George said his agency has 11 fire stations strategically located throughout the territory and four units: Suppression, Arson Investigation, Prevention and Administrative. He said there were 104 firefighters on St. Croix and 142 on St. Thomas.
Sen. Franklin Johnson questioned why there were more firefighters on St. Thomas than on St. Croix, where much more land had to be covered. George said there are six fire stations on St. Thomas and four on St. Croix.
Sen. Alma Francis Heyliger asked about the status of the Fire Service website. George said he hoped it would be online by the end of this year.
Senators at Tuesday's public hearing were Sens. DeGraff, Kenneth Gittens, Francis Heyliger, Javan James Sr., Johnson, Novelle Francis Jr. and Milton Potter.