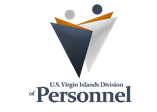 Director of the Division of Personnel Dayna Clendinen informs the public of the temporary closure of the Group Health Insurance Unit in both districts between 8 a.m. and 5 p.m., Thursday, March 25, to allow employees to participate in a staff development training. The closure will not impact the agency's daily operations.
Regular business hours will resume on Friday, March 26. Be advised that all in-person services remain suspended until further notice. A secured drop site for documents is located in the Government Employees' Retirement System (GERS) lobby on St. Thomas and at the Division of Personnel on St. Croix.
The Division of Personnel apologizes for any inconvenience this may cause; however, the Division of Personnel believes that training is an instrumental part of the staff's development and helps to ensure that it continues to enhance the level of service the public receives.