A 10 wheel dump truck loaded down with more than 20 tons of rock drove through the stone wall on King Hill Road and flipped over the hillside spilling about 100 gallons of diesel into the ground.
No one was injured in the accident, which took out about 20 feet of the stone wall located on the steep corner of lower King Hill Road leading to North Shore from Centerline Road.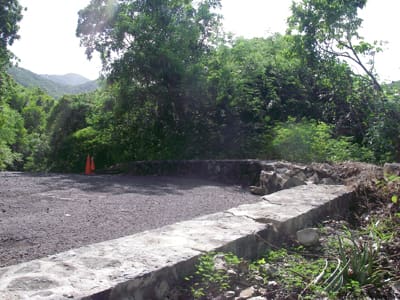 While the accident occurred on Thursday, September 4, around 3:30 p.m., it wasn't cleared until more than a week later when a crane was transported to St. John.
"There was not a tow truck on St. John that could have gotten that truck out," said V.I. National Park Superintendent Mark Hardgrove.
A crane finally removed the truck on Saturday, September 13, but the smell of diesel was still thick in the air on Monday, September 15.
"We've probably got about 100 gallons of diesel fuel, oil, hydraulic fuel and transmission oil down there," Hardgrove said.
There were two people in the truck at the time of the accident, both of whom climbed out of the cab safely, according to the VINP Superintendent.
"No one was hurt," said Hardgrove. "Both men were able to get out of the driver's side window and through the brush up the hill. I suspect they got more cuts and bruises climbing up the hill than they did in the accident."
The damaged wall is owned by VINP, but the site of the accident is part of the Estate Maho land recently purchased by the national non-profit group Trust for Public Land.
TPL worked for years to acquire the more than 400-acre Estate Maho Bay in a deal that was finalized just last year with a reported several million-dollar price tag.
The group plans to survey the fuel-laden area, according to officials.
"We're going to have an environmental firm go out and survey the area and tell us the extent of the spill and what would be involved in cleaning it up," said John Garrison, TPL's southeast regional director.
Although Garrison would not state who owned the truck, the incident will most likely be covered by insurance, according to the TPL official.
"The truck is personally owned and I would imagine that the truck owner has insurance which would pay for the damage," Garrison said.
VINP officials will also work with the truck owner to repair the wall, Hardgrove explained.
"I have a feeling there might be enough rock down in the hole, which was in the truck before it flipped, to repair the wall," said Hardgrove. "I'm looking forward to hearing from the responsible party or their insurance company and we'll work with them."