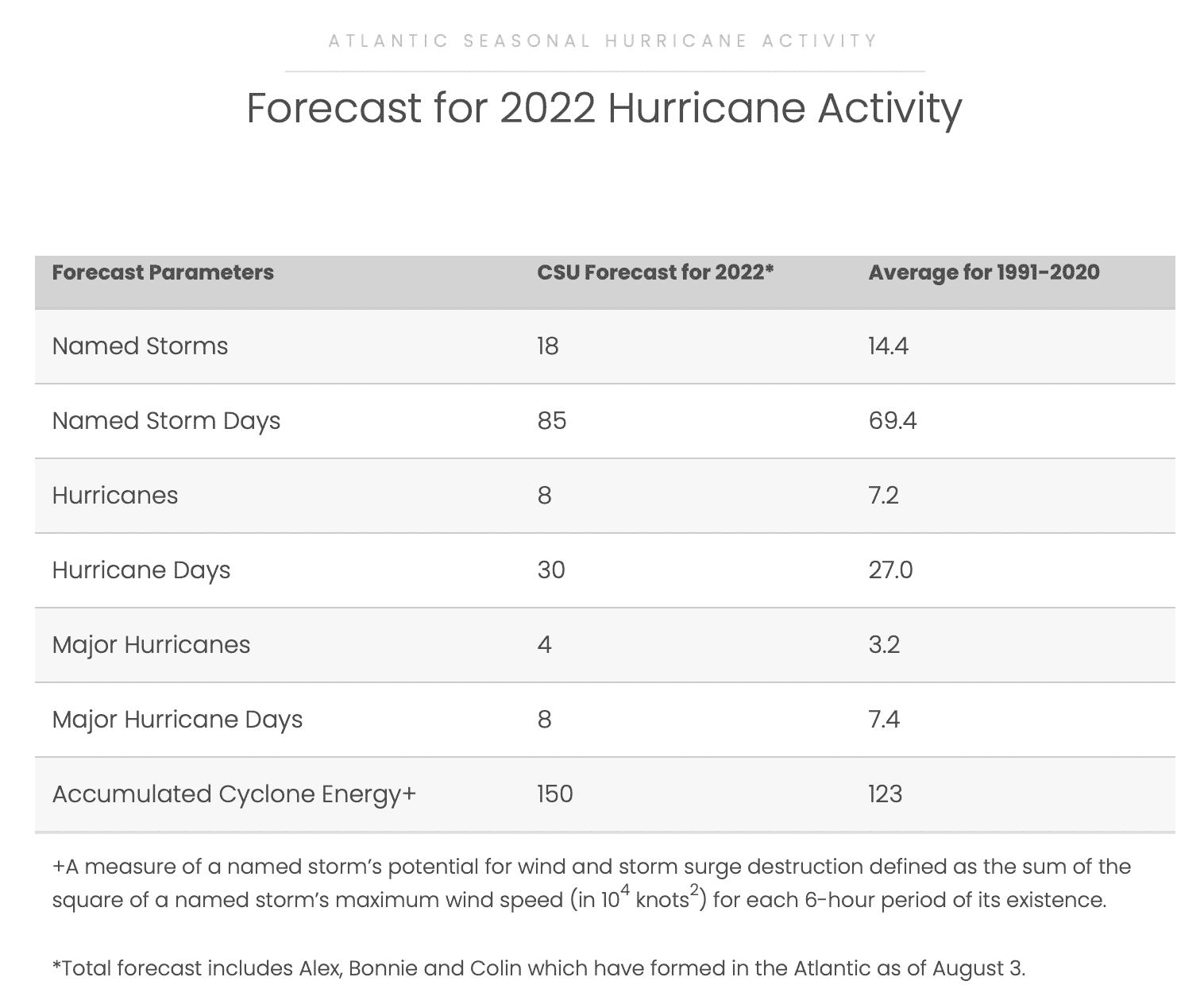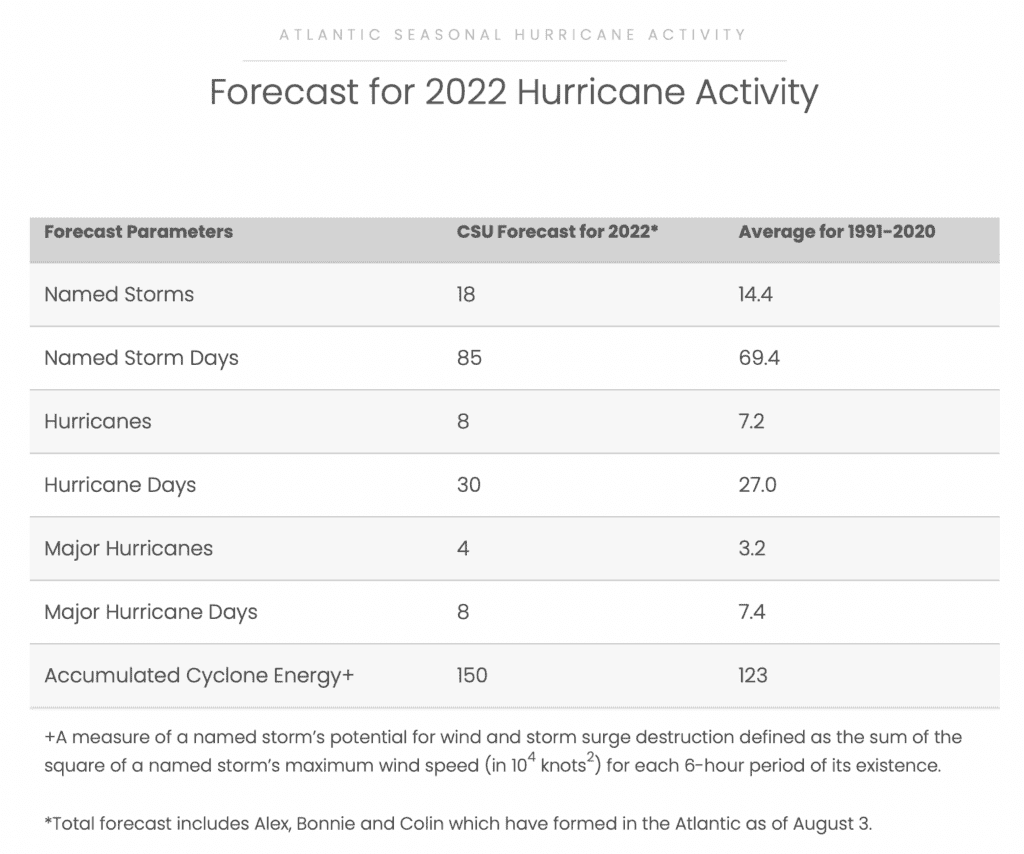 Colorado State University and the National Oceanic and Atmospheric Administration have lowered their extended-range hurricane forecasts ever so slightly but continue to predict an above-average season, according to their mid-season updates released Thursday.
NOAA is now calling for 14 to 20 named storms, compared to 14 to 21 in their May forecast, of which six to 10 will become hurricanes, and three to five major hurricanes, which is defined as Category 3 and higher, or winds of 111 mph and greater.
Colorado State's current forecast calls for 18 named storms and eight hurricanes, a slight decrease from June's forecast which estimated there would be 20 storms and 10 hurricanes. The newest prediction calls for four of the hurricanes to be major.
The forecasts include the three named storms that have already occurred this year: Tropical Storm Alex, which formed June 2 over the Yucatan Peninsula and brought drenching rains to South Florida and Cuba; Hurricane Bonnie, which made brief landfall on the Costa Rica-Nicaragua border on July 1 as a tropical storm, then intensified into a Category 3 storm before dissipating over the Pacific Ocean; and Tropical Storm Colin, which formed offshore of Savannah, Georgia, on July 1 before moving inland across coastal South Carolina.
According to the Colorado State researchers, there is a 46 percent chance of a named storm impacting the U.S. Virgin Islands this season, a 28 percent chance of a hurricane, and a 12 percent chance of a major hurricane. According to their data, the USVI experienced 57 named storms from 1880 through 2020, with 12 of them considered major.
On the U.S. mainland, Florida and North Carolina face the highest odds of a storm impact, at 95 percent and 82 percent, respectively, followed by Louisiana at 81 percent, Georgia at 78 percent, Texas at 77 percent, Alabama at 74 percent, and South Carolina at 72 percent, Colorado State predicts.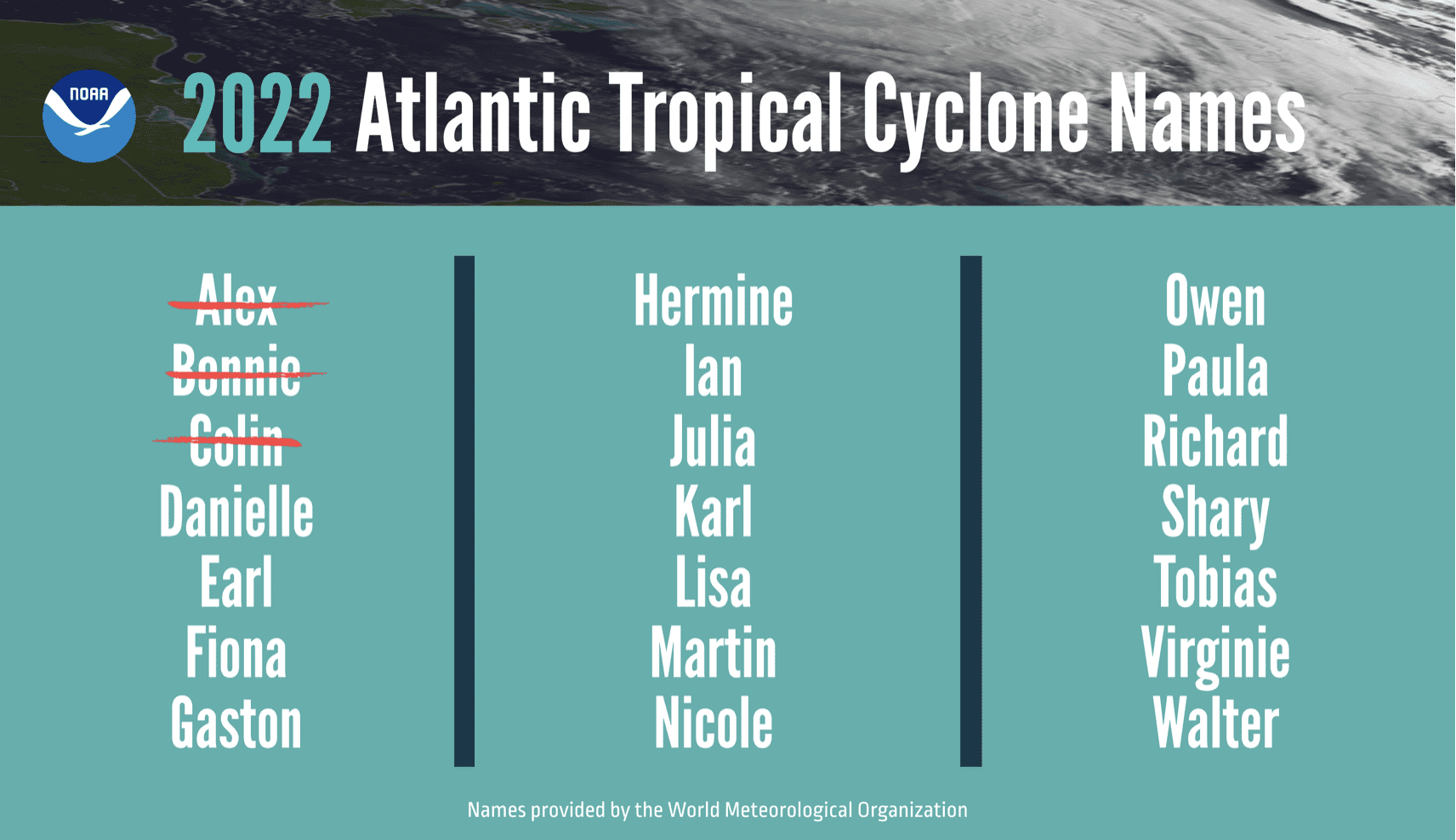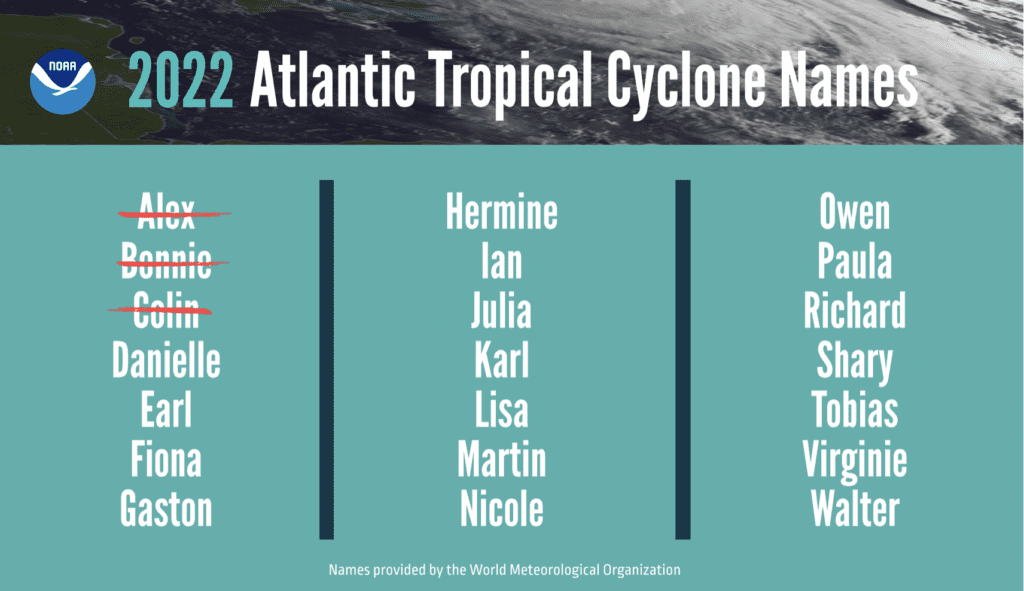 Both agencies attribute the active season to current La Niña conditions, which they said are likely to persist through November. When El Niño dominates, strong upper winds from across the Atlantic shear storms before they can develop. When La Niña dominates, those winds are weaker.
"Sea surface temperatures averaged across the tropical Atlantic are slightly warmer than normal, while subtropical Atlantic sea surface temperatures are cooler than normal," according to Colorado State's latest forecast by Philip Klotzbach, Michael Bell, and Alex DesRosiers of the school's Department of Atmospheric Science.
"Vertical wind shear anomalies averaged over the past 30 days over the Caribbean and tropical Atlantic are slightly weaker than normal. Current La Niña conditions are likely to persist for the rest of the Atlantic hurricane season," they said.
"We continue to anticipate an above-normal probability for major hurricanes making landfall along the continental United States coastline and in the Caribbean."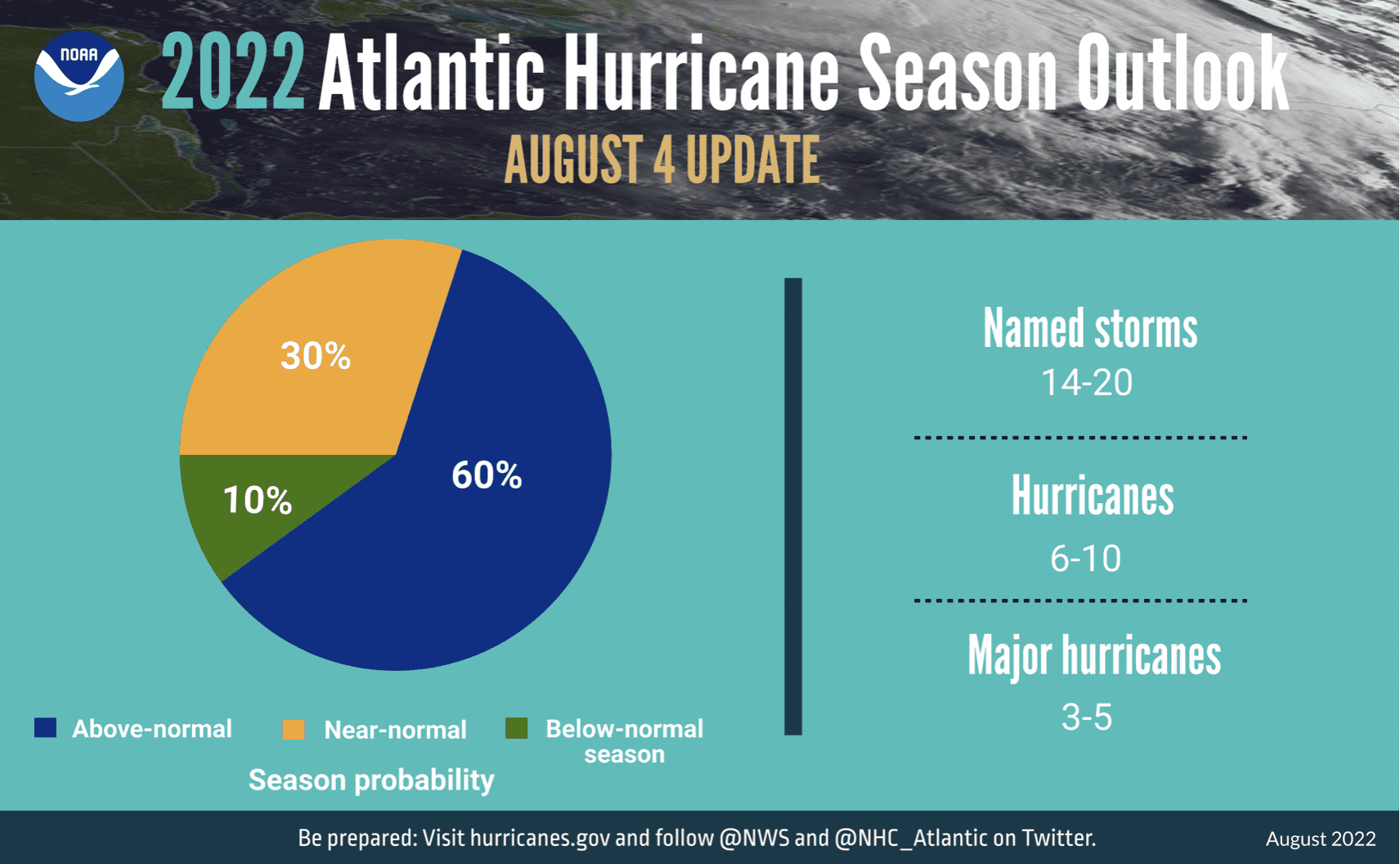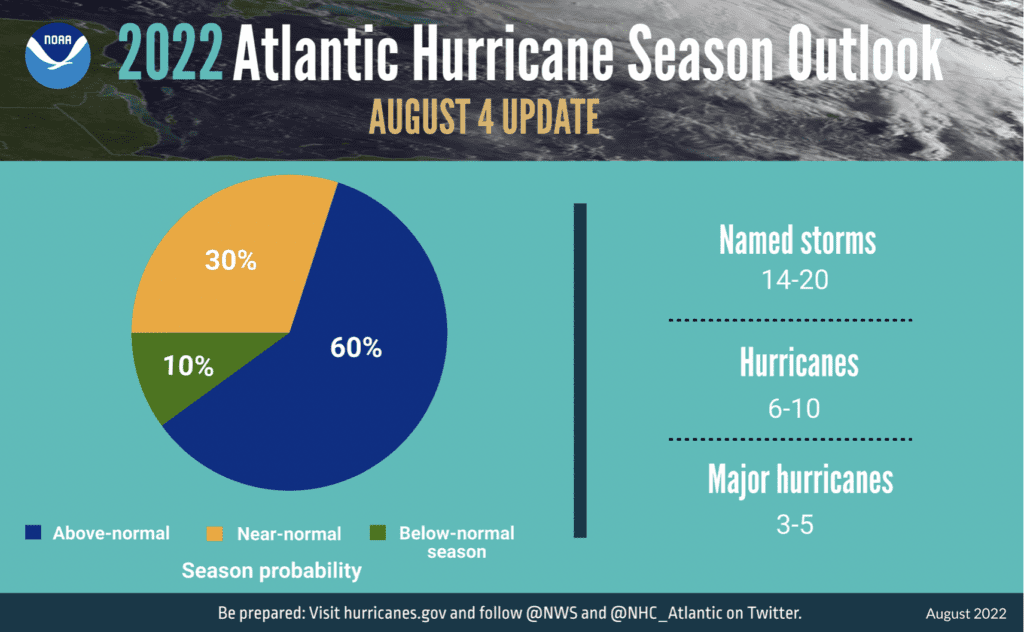 NOAA forecasters said the likelihood of an above-normal Atlantic hurricane season is now 60 percent (lowered from 65 percent in the May outlook). The likelihood of near-normal activity has risen to 30 percent and the chances remain at 10 percent for a below-normal season, they said.
"We're just getting into the peak months of August through October for hurricane development, and we anticipate that more storms are on the way," said NOAA Administrator Rick Spinrad in a statement accompanying the forecast.
Both agencies also warned that the outlooks released Thursday are for overall seasonal activity, not landfall forecasts. Landfalls are largely governed by short-term weather patterns that are currently only predictable within about one week of a storm potentially reaching a coastline, NOAA said, which is why residents should prepare well ahead of any potential weather events.
"Communities and families should prepare now for the remainder of what is still expected to be an active hurricane season," said Ken Graham, director of the National Weather Service. "Ensure that you are ready to take action if a hurricane threatens your area by developing an evacuation plan and gathering hurricane supplies now, before a storm is bearing down on your community."
"Although it has been a relatively slow start to hurricane season, with no major storms developing in the Atlantic, this is not unusual and we, therefore, cannot afford to let our guard down," said Federal Emergency Management Agency Administrator Deanne Criswell.
"This is especially important as we enter peak hurricane season — the next Ida or Sandy could still be lying in wait. That's why everyone should take proactive steps to get ready by downloading the FEMA app and visiting Ready.gov or Listo.gov for preparedness tips. And most importantly, make sure you understand your local risk and follow directions from your state and local officials," Criswell said.
Locally, sign up to receive V.I. Emergency Management Agency alerts via text and email.