Cruz Bay denizens have a new hot spot to check out — Fred's Lounge recently opened right next door to the venerable Fred's Restaurant and Bar.
Featuring video lottery terminals (VLTs), a full bar and food service in an air conditioned lounge with comfortable cafe tables, bright new tiles, a cutting edge stereo and two large flat screen televisions, Fred's Lounge is just what Cruz Bay needs, according to proprietor and former Senator at Large Almando "Rocky" Liburd.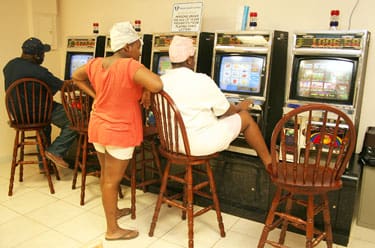 As Fred's owner Fred Samuel's nephew, Liburd practically grew up around the long-time Cruz Bay restaurant and bar. Looking at the large area which used to be the Cut Rate Shop recently, Liburd saw a lot of opportunity to expand his uncle's enterprise.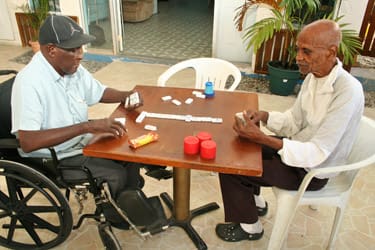 "He always had this shop here, which was good, but I thought we could do something more with the space," said Liburd.
Last year, Samuel spent time in the states for health reasons and uncle and nephew had plenty of time to discuss future business plans.
"When we were in the states, we spent time talking about opening some place here," said Liburd. "So we decided when we came back to put our minds together."
Place To Cool Out
What came out of the collaboration is a comfortable spot which offers a little bit for everyone.
"We wanted to give people some place to bring their significant other where they could cool out," Liburd said. "We want to give courteous, good service at a clean place where people can listen to good music. And we really want people to feel comfortable."
For gambling enthusiasts there are five VLTs, where patrons have been cashing in since opening night more than three weeks ago. Sports fans can get the latest scores on one of the two flat screen televisions, while imbibers can relax at the full service bar.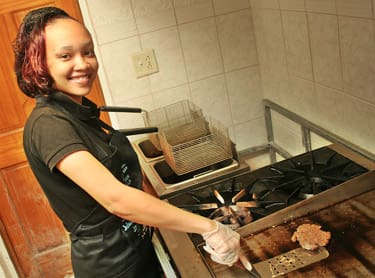 West Indian, American Fare
Food lovers will want to check out what chef Sandra O'Neal is preparing in the kitchen. Look for a mix of local dishes and American favorites on the menu, Liburd explained.
"We have the local staples like johnny cake and fried fish, but we also have burgers and fries and salads," he said. "Every Saturday we do a chicken souse, which tastes just like souse but is made with chicken. It's really popular."
If Liburd has any questions regarding the hospitality industry, he has only to step next door and talk to his uncle who has been in the business for more than 40 years.
Samuel first opened a snack bar in the area where the Lime Inn currently is, back in 1960, the 83-year-old veteran businessman explained.
Snack Bar Dates to 1960
"I was across the street from 1960 and then moved over here in 1978," said Samuel. "I started with a snack bar and then I used to do everything. I would cook and be behind the bar — whatever I needed to do."
"My uncle was one of the best cooks in the islands," said a proud Liburd. "I met a friend in New York who told he had the best baked chicken he ever had in St. John. And guess where he had it — at Fred's."
Samuel, however, admitted that he wasn't a born chef.
"I didn't like cooking as a child," said Samuel. "But I started liking it after I saw that I could make money for it."
In addition to running one of the most popular spots in Cruz Bay, Samuel also coached softball for eight years, priming one of the best teams in the territory.
"It got too busy at the restaurant so I had to stop coaching to spend more time at the snack bar," Samuel said.
After all these years, Samuel still isn't tired of the business.
"I don't get tired," he said.
Fred's Restaurant and Bar is still open and will feature live bands this season. The Cut Rate Store is still in existence as well, but has moved to a space next to Fred's bar area. Fred's is usually open daily after 8 a.m.
Lunch, Take-out Soon Come
Next door at the new lounge, Liburd plans to serve lunch soon and will take orders for take-out as soon as a phone line is installed.
For now Fred's Lounge is open Wednesday through Sunday from noon "until," said Liburd.
"Come and see the new Fred's Lounge for snacks, drinks and gaming," Liburd said. "It's the new hot spot in Cruz Bay."