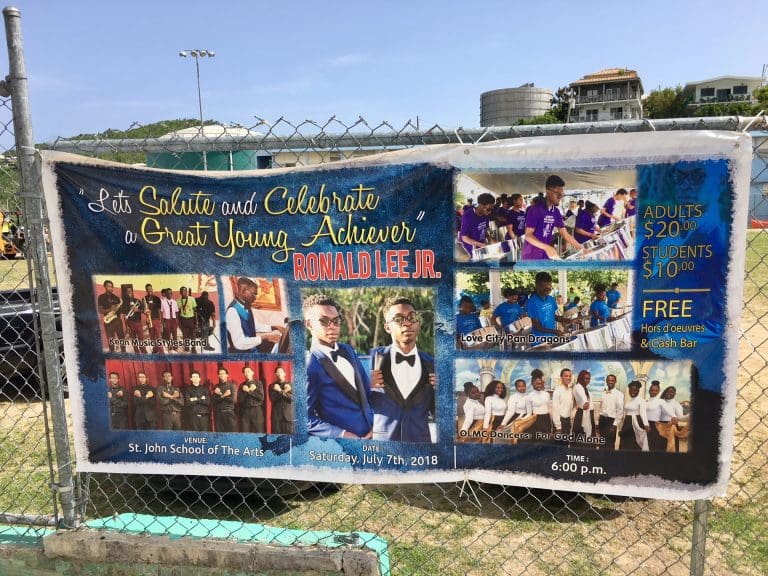 Ronald Lee Jr. will soon head off to study music at George Mason University near Washington, D.C., but before he goes, community members want to thank him for all he's done and send him off with some extra money in his pocket.
Our Lady of Mt. Carmel Catholic Church is organizing a fundraiser for him at 6 p.m. Saturday, July 7, at the St. John School of the Arts. It will showcase some of the most talented young people in the community.
For more than four years, Lee has played steel pan, piano, and organ three times a week at masses held at Our Lady of Mount Carmel Catholic Church, but he's done much more, according to the Rev. Anthony Abraham.
"He's been teaching other young people, helping them after school to learn music. He's a gifted young man who shares his talent," the priest said.
[adrotate group="6"]
If you've attended a community event, such as a Martin Luther King Day ceremony, or a town meeting called by Sen. Janelle Sarauw, you've probably heard him play.
On Saturday he'll perform with the Ivanna Eudora Kean High School Jazz Combo, which he now co-directs. The valedictorian of Kean High's graduating class in 2018, Jalen Francis, and the salutatorian, Hezekiah George, were both members of this band, but only George will perform on Saturday as Francis recently left the territory to attend college.
Also performing on Saturday will be the OLMC Dancers: For God Alone; singers Eric Provost and Evanna Chinnery; piano and sax player I'Lon Monsanto; and the Love City Pan Dragons.
It was through the Pan Dragons that Lee found his passion for music.
"When I was seven, I used to listen to the Pan Dragons; I literally begged my mother to let me join. I was in love with their sound."
After 10 years with the iconic St. John steel band, Lee became one of the leaders. He credits instructor Marlon "Ikema" Dyer with helping him discover his talent.
"He discovered I picked up music fast. I have perfect pitch. If I hear a car go by" – he imitated a car blowing its horn – "I can tell you what note it is. That's what motivated me to take music seriously. I took it as a sign from God."
He continued studying jazz with instructors Shamoi Rodgers and Anthony Nibbs at Kean High, and took piano lessons from Monet Davis. He was also a member of the V.I. Youth Ensemble under the direction of Dion Parsons.
Lee chose George Mason University because it's where legendary steel pan player Victor Provost now teaches music. Provost was raised on St. John and continues to be an inspiration for Lee. Once he's at college, Lee expects to continue to study pan, piano, and drums. He also intends to learn to produce and arrange music, and eventually compose it.
But before Lee heads to college, he's traveling to Antigua for a Panorama Competition with Marlon "Ikema" Dyer.
"This the third year I'll be going. I actually have a name over there," he said.
With a little encouragement, Lee tells his story: When he first went to Antigua to compete, he was given an unfamiliar instrument to perform on. The steel pan's notes were arranged differently from what he was used to, "And they doubted I could get used to it in time to learn a 10-minute arrangement. It was tough, but I got it," he said. "Now they call me 'The Wizard.'"
Lee credits his family – parents Ronald Sr. and Catherine Lee, and sisters Khadijah, Shanekua, and Nichole – and friends for helping by giving good advice.
"My friends have influenced me to play. They say I'll be famous someday," said Lee.
A limited number of tickets for "Let's Salute and Celebrate a Great Young Achiever" are on sale at the OLMC Catholic Church Rectory. The tickets are $20 for adults and $10 for students. Hors d'oeuvres will be served and there will be a cash bar. Further information is available by calling 340-776-6339.
Shared content for Virgin Islands Source and St. John Tradewinds.