There was no way the St. John July 4th Festival Committee was going to let Emancipation Day slip by without recognition.
"We had a hard time with the hurricane," said Myrna George," but we can still celebrate something."
George worked with fellow St. Johnians Gilbert Sprauve and Rosa Samuel to modify "Setting the Record Straight," a play they have performed on Emancipation Day for several years. The play takes a serious look at the events that led to the emancipation of enslaved Africans in the Virgin Islands 170 years ago, but this year, they decided to add a lick of comedy to the show.
Drawing on the tradition of comedic skits featuring market ladies, the playwrights framed the play with a skit called "Irma and Maria: You Meet Your Match," involving elders Miss Hilda (played by George) and Miss Mary (played by Patrice Harley) as they commiserate about the storm:
[adrotate group="6"]
"Hilda, da wind wasn't that strong. It wasn't no thousand miles an hour."
"I saw the dog house and the dog fly out my yard," protests Hilda.
"Did it survive?" asks Mary.
"I don't know yet!" wails Hilda.
They are soon joined by Miss Sarah (Rosa Samuel) who assures them, "When the first insurance check went in, the stress gone!"
The three say they plan to follow Cool Sessions at J'ouvert, and they get up to dance, chanting to a beat, "I'm limpin', I'm limpin'"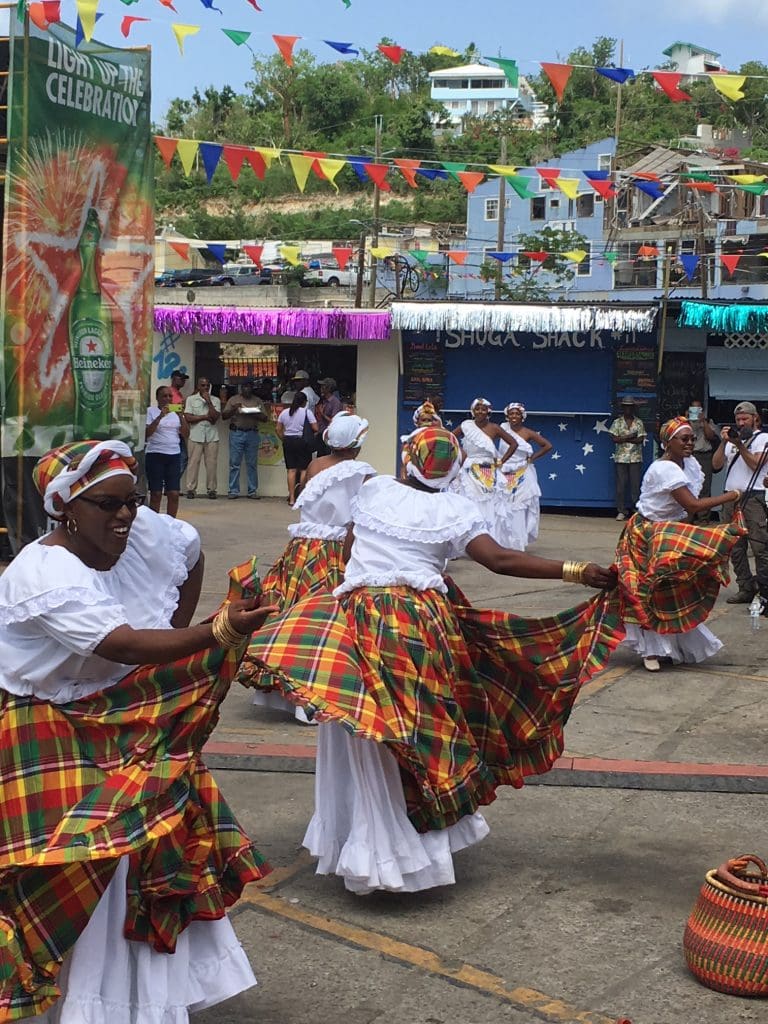 The Emancipation Day celebration began with the traditional blowing of the conch shell by Emmanuel "Mano" Boyd, and an invocation by pastor Carlyle Sampson.
"Oh Lord, help us to use our freedom not as a cloak of disobedience but as an expression of love," he said.
Ruth Frett, Faye Frederick, and Greta Samuel dazzled the audience with their renditions of "The Virgin Islands March" and "Lift Every Voice and Sing."
Mistress of ceremonies Pamela Richards Samuel kept the program moving from scenes from the play, to musical selections, to an accounting of Emancipation by Mario Moorhead.
Bertha C. Boschulte Middle School's Flambo Combo warmed up the audience starting at noon. The program slated to begin at 1 p.m. started nearly 40 minutes late because the organizers were waiting for Gov. Kenneth Mapp to arrive, but the audience was soothed by music by many of St. John's finest musicians, including Haile Israel on guitar, Eddie Bruce and Delroy "Ital" Anthony on drums, Mahlon "Koko" Pickering on banjo, and Mano Boyd on trumpet.
Cultural dance was featured in the program, with performances by the Caribbean Ritual Dancers, St. Thomas Heritage Dancers, and the MACISLYN Bamboula Dance Company.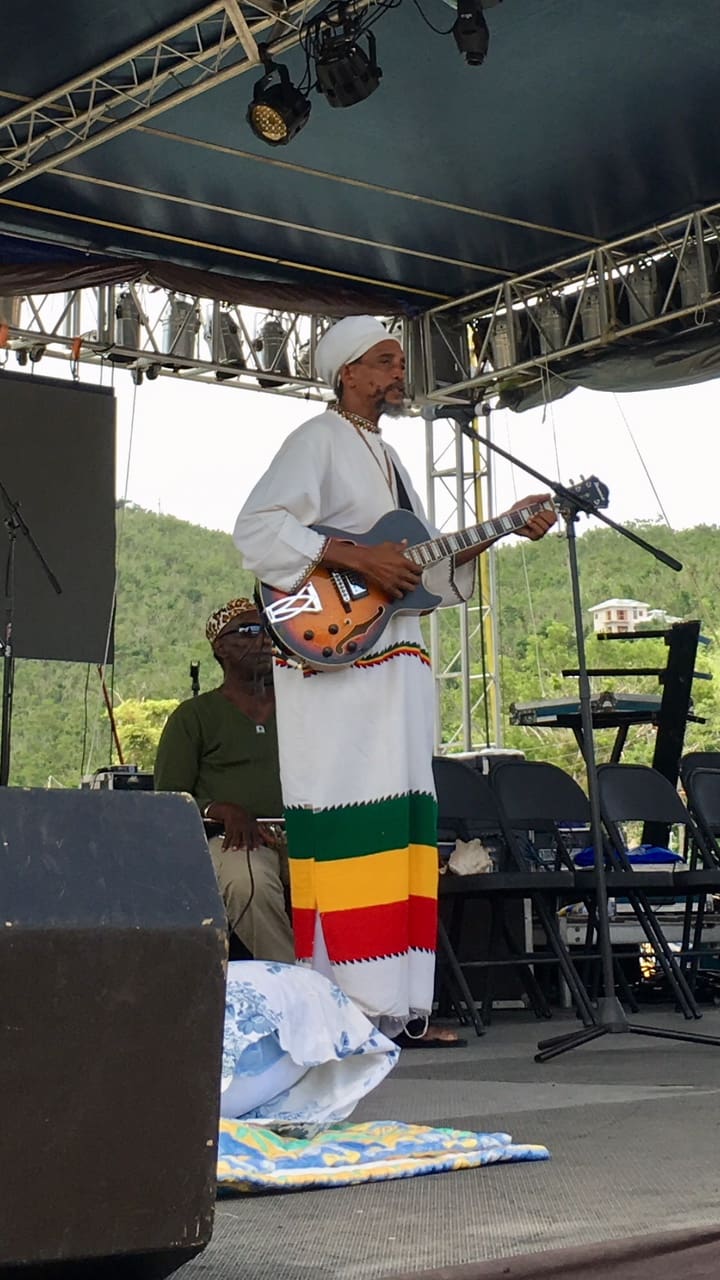 Seniors in the audience sat under the tent, which provided shelter from the baking afternoon sun. Others looked hard for a piece of shade in the Cruz Bay parking lot, the site of this year's Emancipation Day Ceremony. Frank Powell Park, where it was held until last year, was filled with vendors.
But even in the park, there wasn't much shade. Irma took most of the trees last September.
Meanwhile, the streets of Cruz Bay were crowded with trucks trying to make their last deliveries to merchants before all traffic stops for Wednesday's parade.
Enid Doway, who heads up the Festival committee that produces the Royalty Pageant, was concerned about the number of vehicles lining up on St. Thomas to come to St. John by barge.
"The barge situation has been atrocious," she said. Doway said she was awaiting the arrival of cars that would carry the Festival's queen, princess, and royal court during the parade.
The parade is scheduled to begin at 11 a.m. Fireworks are scheduled to begin at 9 p.m.
Shared content for St. John Tradewinds and Virgin Islands Source.