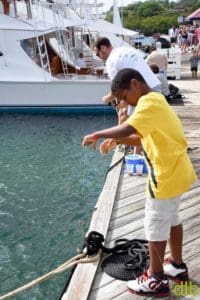 The July Open Halloween Kids Fishing Tournament, hosted by the Virgin Islands Game Fishing Club (VIGFC), will take place on Saturday, Oct. 30 at IGY's American Yacht Harbor (AYH) Marina in Red Hook, St. Thomas.
The event has been rescheduled from July due to sargassum, increased COVID cases and weather.
Kids that who registered in July will receive a letter confirming their participation; please, do not re-register. For those who haven't registered, do so now as slots are expected to fill up fast. Register for free at www.vigfc.com. Registrants will receive an email for choice of time slot.
This year's event will be divided into two time periods: 9-11 a.m. and 1-3 p.m., with 100 anglers each, to assure ample room for COVID-safe social distancing. Masks are required, and youth are encouraged to wear Halloween costumes too because there will be prizes for best costumes. The event is free to youth aged 14 years and younger, and they must be accompanied by a parent or guardian.
"The Virgin Islands Game Fishing Club is pleased to host the July Open Halloween Kids Fishing Tournament for another year. The Oct. 30 date offers a Halloween theme. It's a fun way for kids to wear their required face masks and fun costumes too. Prizes will be awarded for best costumes," said Kevin Haddox, who co-directs the event with Karl Gartner.
"Fishing is a lot of fun, and it's a great outdoors activity. It's easy for families because we provide the handlines and bait, the kids can spread out all along the docks to fish, and afterward, there's pizza and prizes," he said.
The catch will be officially weighed by professionals from the Department of Planning and Natural Resource's Fish and Wildlife Division. Kids are encouraged to be conservation conscious and release their catch.
Prizes, which will be awarded in two age groups of up to age 6 and ages 7 to 14, include trophies, gift certificates, cash and much more donated by community businesses.
This event is sponsored by the VIGFC, AYH, Neptune Fishing Supplies and Island Time Pub. Additional sponsorship is welcome. For more information, call 775-9144 or email: usvigfc@gmail.com