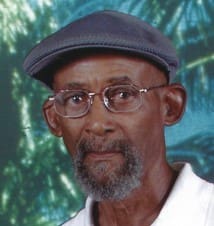 George A. Lindesay, better known as "Bimbi," died at Roy L. Schneider Hospital on Easter Sunday, April 9, at the age of 78.
George is preceded in death by his parents: Ira and Ivah Lindesay; sisters: Almarina Palmer and Charlene Clendinen; and brother, Andre Lindesay.
George is survived by his daughter, Yvette Lindesay; nieces: Almarie Arrindell and Charmaine Hanley; nephew, Erwin Muhammad; great-nieces: Nicole Ariwi, Kadra Muhammad, Kahlimah Palmer, Caya Hanley and Laila Hanley; great-nephews: Marshae Palmer, Adrian Arrindell, Yamin Palmer and Wingrove Hanley III; cousin, Theodora Morehead; great aunts: Carol Challenger and Helen Francis; and many other relatives and friends too numerous to mention.
The first viewing will be held from 5-7 p.m., Thursday, May 4, at the Dan Hurley Home for Funerals and Cremation Center. The second viewing and service will be held on Friday, May 5, at Memorial Moravian Church. The viewing at the church will begin at 9 a.m. and the service will follow at 10 a.m. Interment will be cremation
Funeral arrangements are under the care of Dan Hurley Home for Funerals and Cremation Centers of St. Thomas, St. John and St. Croix.
For online condolences or to share a special memory, visit our website at www.hurleydavisfuneralhome.com