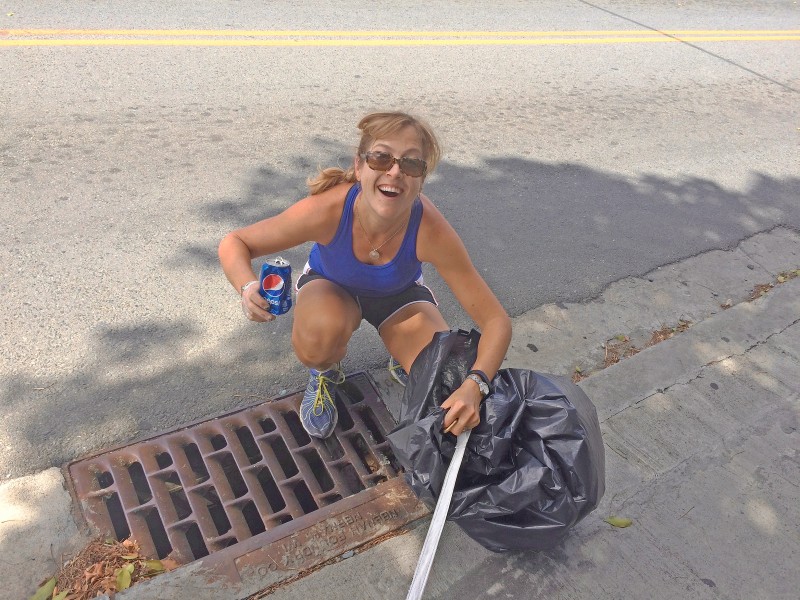 By Andrea Milam
St. John Tradewinds
The story of the beginning of Get Trashed St. John is simple and straightforward.
In late 2014, Erin Lieb had just moved to St. John, and like many island newcomers, she hadn't yet found a car. On her daily walk from her Estate Pastory home to her Cruz Bay office, Lieb noticed large amounts of litter along the sides of the road. She made the clear choice to have a positive impact — she started picking up the trash on her daily commute.
Lieb eventually recruited a friend, Tonia Lovejoy, for a Saturday pickup session, and while unwinding over a drink at the end of the cleanup, Get Trashed was born.
"We thought maybe other people would want to pick up trash with us, so we started the Facebook page," said Lieb. "We started having cleanups once a month beginning in April 2015."
Cleanups with Get Trashed feature the added bonus of a potluck gathering afterwards, lending a social aspect to the good deed. So far, monthly cleanups have targeted Cruz Bay, Centerline Road, Maho, Cinnamon, Oppenheimer, and Hart Bay. Get Trashed has also adopted Cinnamon Bay as part of the Ocean Conservancy's International Coastal Cleanup. Their most recent cleanup on Thanksgiving morning targeted the area between The Marketplace and Pine Peace, when six volunteers netted 12 bags of garbage.
Lieb estimated that volunteers have picked up more than 100 industrial-sized bags of trash since the inception of Get Trashed, with items like cups, water bottles, straws, and cigarette butts making up the lion's share of St. John litter. Some of the cleanups have attracted as many as 25 volunteers.
"It's getting the community involved," said Lieb. "People that might not meet each other are getting together for a good cause."
Get Trashed has even garnered help from local businesses; X on St. John donates all of the trash bags used during cleanups, while the Beach Bar and Gecko Gazebo have offered drink specials to Get Trashed volunteers following the monthly cleanups.
Though Lieb's initial goal in founding the Get Trashed movement was simply to pick up litter, her focus is broadening to preventing trash from ending up on the ground in the first place.
"We recently got a trash can and put it near the V.I. National Park ball field," said Lieb. "We're going to monitor and empty it once a week because we couldn't get anyone to take responsibility for that area. Prior to us doing that, there were no trash cans in the stretch between Mongoose Junction and the post office."
The volunteer organization may also look at tackling cigarette butts in the future, but for now, the need to pick up trash is immediate and urgent.
To get involved, follow Get Trashed St. John on Facebook, join their monthly cleanups, and make the effort to be part of the solution, whether choosing to throw away a plastic water bottle found on the beach or to comb a neighborhood road with a garbage bag in tow.