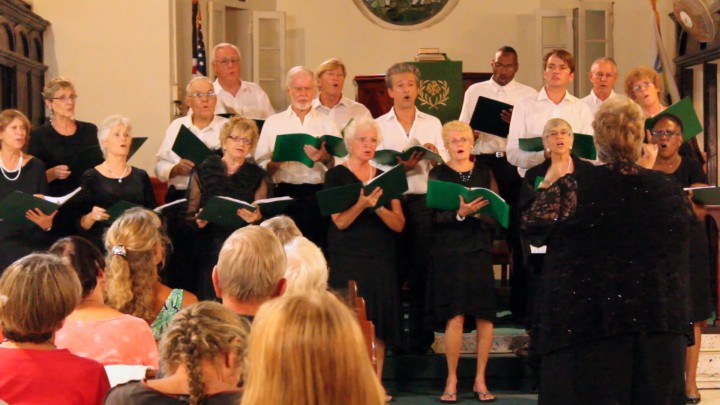 By Amy Roberts
St. John Tradewinds
Christmas winds are blowing, villas are lit up like cruise ships, and parking spaces are getting scarce. The signs of the approaching holidays are here.
Those who mark the beginning of the festive season by attending the St. John Singers' annual concerts should take note ­— the choir will be presenting their concerts in a slightly different order this year.
Coral Bay will be the first venue for the community choir, now in its 34th year.  The Singers will perform on Friday, December 18, at Emmaus Moravian Church at 7:30 p.m.
The Cruz Bay concert will be presented at the Nazareth Lutheran Church on Saturday, December 19, at 7:30 p.m. Tickets to the concerts are $20, and children are admitted free.
The repertoire includes some classical pieces, some arrangements of traditional carols, and some newer compositions, according to choir director Janice Ballard. Two pieces are Celtic in origin and include accompaniment on a bodhran, a traditional Celtic drum.
Another selection, "In Excelsis Deo," is "an interesting juxtaposition of the tradition Latin text with gospel music," Ballard said.
Choir members Faye Fredericks and Mahlon "Koko" Pickering will provide percussion on this piece.
The choir is pleased to welcome back flute player Nancy Ruffer as the guest soloist. As a young woman, Ruffer was awarded a Fulbright-Hays Scholarship to study at the Royal Academy of Music in London and has since made her living there as a free-lance flautist. However, Ruffer's family has had a home on St. John for decades, so she usually returns here for the Christmas holidays.
In addition to performing several compositions, Ruffer will be accompanying the choir on flute on three selections.
"We're lucky to have someone of her caliber," said Ballard.  "She's easy to work with."
The choir is also fortunate to have Aboris de Jesus accompany the choir on piano. This young talented musician, who was born in Puerto Rico and raised on St. Thomas, is a graduate of the Interlochen Center for the Arts and now studies at Lawrence University.  Although Ballard has been working with her since she was a middle school student, this is the first time she will be performing with the St. John Singers.