Gifft Hill School Class of 2017. Photo courtesy of Gifft Hill School Facebook Page and Yelena Rogers Photography.
Trayser Field was a flurry of caps, gowns, emotions, and fanfare on Friday, June 16. The 14th Gifft Hill School Commencement Ceremony celebrated the hard work and accomplishments of the thirteen students of the class of 2017. Attendees were regaled with the vibrant music of the Love City Pan Dragons and stories of triumph from faculty and graduates.
The amount earned in academic scholarships grew to $1,064,493 by the evening of the ceremony. Of the 13 graduates, 11 plan to immediately attend college while 2 have chosen to take some time off. College acceptances included Lynn University, American University, Columbia College of Chicago, Iona College, University of Tampa, Roanoke College, University of Arkansas and more.
The 2016-2017 school year proved to be fruitful for the school. On top of maintaining its accreditation, flexible tuition and safe environment, the school recently received a contribution from the E.E Ford Foundation, which supports outstanding independent secondary schools across throughout the nation.
Head of School Dr. Laurie Bottiger reflected on the year by referring to the school as "a first class, 21st century institution." In regards to the graduating class, she referred to them as, "a beautiful mosaic, with strong and capable individuals who are collectively amazing."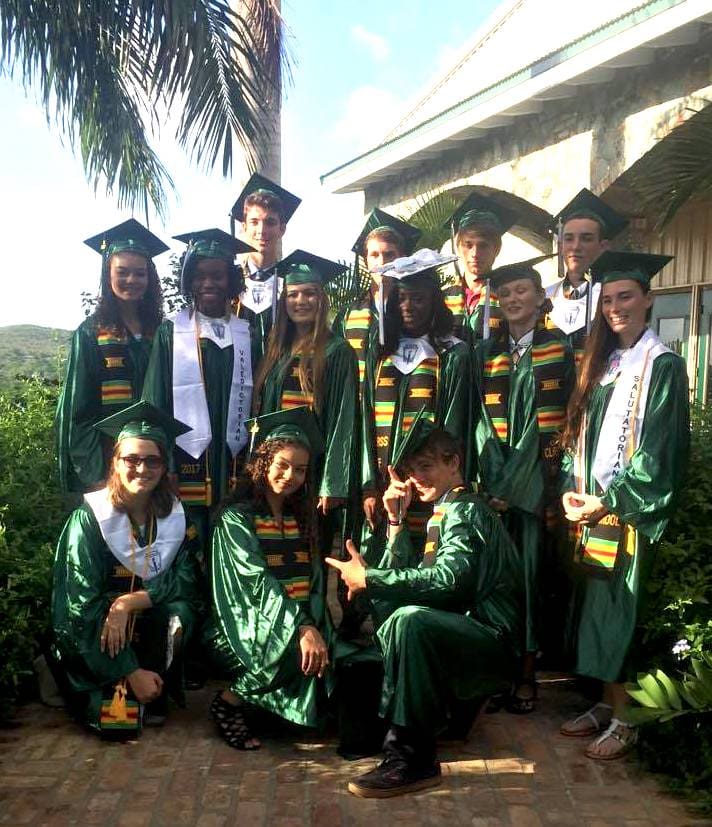 In the moments leading up to the start of the program, the students showered each other with hugs and praise. Many used the time to reflect upon their final year spent at the school. "[the year] went really well, I worked hard and I would not change anything about it," remarked Aysha Clendinen, who plans to attend a university in Boston in the fall. "This really was a great year with so many opportunities. From traveling, to sports, to clubs, to service and leadership; I'm thankful, but sad to go!" said Larisma Maduro. "This year was stressful, eventful, and overall wonderful!" exclaimed Nadejda Dudkin, who has plans to study musical theatre in Chicago.
Other students used the time to share their hopes for the future. "I truly hope I can find a job that I want and have fun at it", said Mirisa Clendinen anticipating her move to New York for college. Some students have travel plans set for overseas.
Though he was excited about taking a year off in Australia, Luke Patrie made sure to have a somber moment reflecting on the memories he had made while in school, "I started here when I was only 3 years old. I'm very appreciative to have been at such a personal and loving school. I need to give a shout out to Ms. Liz, Ms. Vee, Ms. Mary, Ms. Barbie, and Ms. Jill."
Salutatorian Maevin Parsil plans to study cinematography at Savannah College of Art & Design, and she asserted that she will use the skills she learns there to, "come back one day and benefit the whole island with my craft." This plan likely stems from her love of St. John and of giving back to the community, which she alluded to in her speech. "Growing up here has taught me open-mindedness and how to respect things outside of myself… Connecting with the community through GHS Gives Back and our community service requirement is both rewarding and empowering. It has been a pleasure getting to know the members of the Gifft Hill School family."
Dr. Bottiger offered much praise to the class during her speech. "The Class of 2017 is a model of how the world could be. With their variety of interests, individuality, diversity and ability to think outside of the box, this class will see past all the judgment and bias being pushed throughout the media, and influence people of all ages."
She used the function of bumblebees to encourage them. "In relation to aerodynamics, bumblebees should not be able to fly. Despite the way they are viewed and the shapes of their bodies, they fly and they are vital parts of the communities they exist in. Be like a bumblebee, defy what others believe to be possible and focus on your success." Dr. Bottiger also thanked parents for "sharing these formative years with us."
Political hopeful John Ovicina gave an impassioned and humorous speech before his classmates. He joked about the long hours spent in school, but praised the fact that he got to spend them with his classmates. "I wanted to avoid using this word since it is so cliché, but I can best describe this class as family. Thank you for making my life better. The experiences we have had together can really change what you know to be possible." He closed his speech by saying, "You are a member of the class of 2017, and that means something."
Though Valedictorian and soon-to-be pre-med student Genesis Dawson had little to say before the start of the program (which she chalked up to the fact that the gravity of her graduation had not yet hit her), she had much to say in her speech. "What is your class rank? Your GPA? In life you are often defined by numbers, but with this class I have learned that numbers do not mean much. There are many ways to be educated, and the smartest person in the world can be without success."
Dawson had many people to thank, including the teachers "for their knowledge, understanding, and consideration", the Giving Tree Foundation for the ability to attend the school tuition free, her classmates for "the exposure, laughter, perspective, and keeping me updated on what is happening in the world around us," her grandmother for her faith and foundation in God, her father because "I have seen many people grow up around me without a father. You are a privilege to have, so thank you for protecting me, providing for me, and being there," her step-mother for her wisdom, help with the application process, and inspiring stories of wanting to become a neonatal nurse, her mother for "teaching me to never give up," and her siblings for "being my greatest cheerleaders."
She acknowledged each of her classmates as valedictorians for they all, "survived together" and they were all "Gifft Hill Strong."
The crowning moment of the conferring of diplomas was marked by the inclusion of personalized speeches for each student, prepared by a member of the faculty. These speeches touched on aspects of each student's personality, their growth as a student, and their hopes for the future.
With much regard to these speeches, a hearty congratulations are in order for the beautiful yet fragile butterfly Aysha Clendinen, Mirisa Clendinen with her wind-like forcefulness, Vela Culbert the embodiment of "My Way" by Frank Sinatra, the quiet but forceful Genesis Dawson, the spectacular Nadejda Dudkin, Silas Hill the Texan-St. Johnian, Evan Jones the aquatic nature enthusiast, Larisma Maduro, the incredibly selfless artist, John Ovcina the gifted politician, the abundantly skilled Maeven Parsil , Luke Patrie the blessed middle-child, the sturdy Landis Wallace, and the talented artist Emily Wild. The community of St. John is looking forward to seeing and celebrating your success as you pursue your dreams.