Special feature for St. John Tradewinds and the St. John Source.
Pictured above: Annette Small with Cruz Bay Seventh-day Adventist Church.
In 2011, when Annette Small moved back to St. John after living in the States for many years, she took an early morning walk with her mother around Cruz Bay.
"I saw people wrapped up in sheets on the beach," said Small, "and I asked my mother, 'Does St. John have a homeless problem?'  She said, "I heard so.'  That day sparked something in me that said, 'Do something!'"
So she did.  Small went to the market and bought fruit, bagels, and bottles of water. She packed the items into lunch bags and then carried them down to the beach.
[adrotate group="6"]
Small had no experience assisting the homeless although she had spent the previous 11 years working for Catholic Charities in Massachusetts with developmentally disabled people.  "I was terrified," she admitted.  "I didn't know what their reaction would be."  So she kept it simple:  "I asked them, 'Do you want something to eat?'"
Her food delivery mission became a habit, she said. "I started doing it five or six days a week. I would sit down with them and talk to them for hours.   They taught me a lot. Their stories were touching. I became fast friends with the guys."
After several months, members her congregation at the Cruz Bay Seventh-day Adventist Church learned of her service to the homeless and decided to make it their cause as well.  Over the past few years, they started serving hot meals two to three times a week at the church and delivering food to individuals in Cruz Bay and Coral Bay.  They now also provide showers, free clothing, and a food pantry for needy families.
The Seventh-day Adventists were not the first religious organization to respond to the needs of a growing population of homeless people in Cruz Bay.  Back in 2011, Catholic Charities of the Virgin Islands was already making regular trips by barge from their base on St. Thomas to bring lunch on Tuesdays to the homeless on St. John.
Catholic Charities used the kitchen at Our Lady of Mount Carmel (OLMC) Roman Catholic Church in Cruz Bay to prepare the meals.  Soon they started making trips to Coral Bay on Wednesdays for "street outreach," according to Andrea Shillingford, the executive director of Catholic Charities of the Virgin Islands.
Their spirit of generosity became contagious.  The congregation of OLMC Catholic Church took on the mission of assisting the needy. As renovations to the church were already underway, it was relatively easy to expand the kitchen and install showers and laundry facilities to accommodate the growing population of people who are homeless (or at risk of being homeless), estimated to number around 60 individuals as of May 2017.
The Catholic congregation now sponsors three hot meals a week in Cruz Bay, as well as clothing drives and even a Secret Santa gift giveaway at Christmas.  Father Anthony Abraham of OLMC said he was touched to see "a big man with tears coming to his eyes" when he received his gift.  "You should have seen the expression on their faces," he said.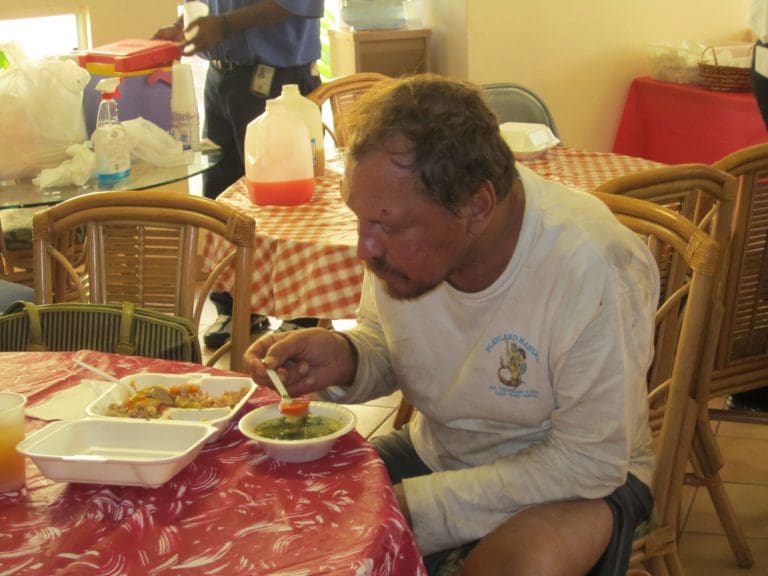 The Women's Group at the Lutheran Church also started preparing and serving a weekly meal to the homeless.
Father Anthony said that of the 20 to 25 people who regularly come to the Catholic Church for meals, the vast majority are peaceful.  "It rarely happens that someone is disrespectful," he said, but police presence was requested after an incident with a mentally ill homeless person.
Celia Kalousek, the executive director of the St. John Community Foundation, said that 75% percent of the homeless population have mental health or substance abuse issues.  "This island is in desperate need of mental health services," she said.
Annette Small, whose day job is to provide counseling services at the Myrah Keating Smith Community Health Center on St. John, said some of the homeless people she knows have deep–seated issues and have told her bluntly, "I drink to dull the pain."
Small said when she first started doing her individual outreach, some of the people she approached were "a little skeptical"; too often they've seen  people who seem to want to help come in and out of their lives. She advises those who volunteer to work with the homeless to listen and develop an understanding of their situations.
She repeated a phrase that was stated by virtually everyone interviewed for this series of articles:  "Most of us are just a paycheck or two away from being homeless."
To donate or volunteer, contact:
Catholic Charities of the Virgin Islands at 777-8518
Cruz Bay Seventh-day Adventist Church at 779-4477
Our Lady of Mount Carmel Catholic Church at 776-6339
The St. John Community Foundation at 693-9410