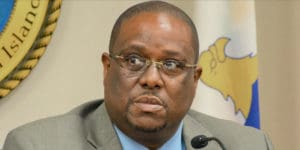 A delegation led by Sen. Kenneth L. Gittens will participate in meetings and site visits this week in an effort to promote economic diversification and the territory's enhanced participation in the global marketplace.
Sen. Gittens, chairman of the Committee on Economic Development and Agriculture, noted the incredible potential of St. Croix, particularly in light of the Southshore Free-Trade Zone legislation, which was signed into law in October 2020. The new economic development program eliminates some barriers to trade and designates 3,000 acres on the south shore of St. Croix as an enterprise zone in order to facilitate the transshipment industry, light manufacturing and V.I. Blue Economy initiatives.
"The growth and stability of the Virgin Islands economy is linked to our ability to adapt and act proactively," Gittens said. "We have learned we cannot rely on tourism, refining or any single industry here in the Virgin Islands. It is critical that we focus on bringing new and sustainable enterprises to the territory, particularly St. Croix."
The senator said this week's trip was the result of "very exhilarating discussions" with global industry leaders that he initiated in January and that it was important that the territory's leaders present a united front and a coordinated plan to bring in major investors to the Virgin Islands.
"The effort continues this week with an official visit to the Ports of Miami and Palm Beach to explore transshipment, global freight operations and some of the many opportunities created under our new Southshore Free-Trade Zone designation," he said. "We will also move forward with an ongoing initiative to bring in new private sector partners to the territory."
Sen. Gittens noted that while the planning for this week's activities began long before the recent emissions and suspension of operations at Limetree, the meetings could not come at a more critical time.
"We must expand and improve our seaports in order to realize our full potential in the international marketplace," he said. "The opportunities are limitless, but we must act now."
The delegation includes members of the Virgin Islands Legislature, V.I. Port Authority staff and board, the V.I. Economic Development Authority and Gov. Albert A. Bryan Jr.