This is the second in a series of stories on the barges of St. John.
St. John residents are bracing for the next round of frustration as one of the two barges operating between St. John and St. Thomas goes into dry dock for a scheduled Coast Guard inspection.
The Virgin Islands Port Authority sent out a news release confirming that the M/V General II, owned by Global Marine, will be out of commission for at least a week – more likely two weeks.
Every two years, barges must be hauled out for complete inspection of their hulls, said Stanley "Bubbla" Hedrington, owner of Global Marine LLC. "And you never know what's waiting for you. You could get a quote for repairs, as we did the last time, for $130,000."
[adrotate group="6"]
During the summer of 2016, barge service that businesses, residents, and tourists relied on practically came to a halt as a series of problems plagued the three barge companies.
At that time, Global Marine was struggling to get General II back into operation, while its other barge, the M/V Roanoke, remained moored in Enighed Pond awaiting more serious repairs.
Global Marine got its start in 1999 operating the Roanoke, which was originally named M/V Tug Life, a pun on a popular phrase. The company's slogan was "It's not just a ride, it's an adventure."
Roanoke was one of four barges lost in the 2017 Hurricane Season. It was cut into pieces and its metal was recycled, according to Hedrington.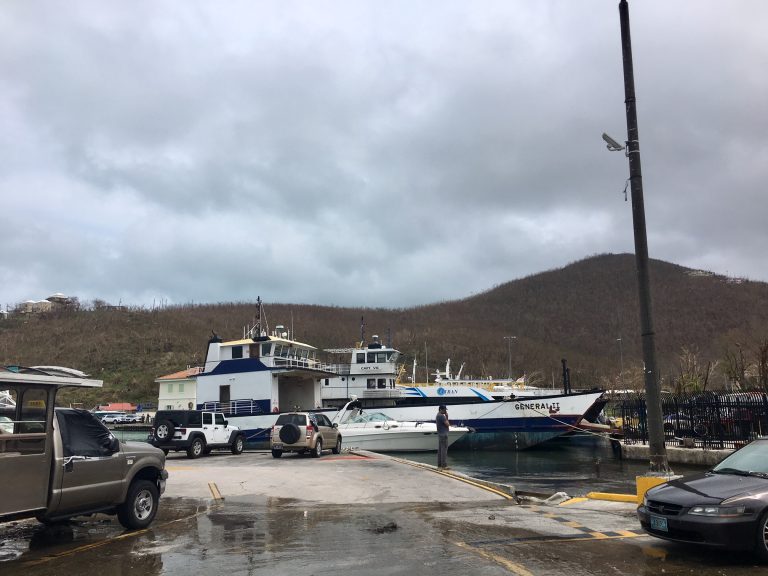 But the General II was tied up in the Creek during the storms and survived along with one other barge, Love City Car Ferries' M/V Capt Vic.
Since the hurricanes, those two vessels have provided transportation for St. John residents who make routine trips to St. Thomas to see doctors, shop, or run errands; for St. Thomas businesses that make daily trips to St. John to restock merchandise or provide services; for disaster response agencies and contractors to bring in building equipment and supplies; and for government agencies to deliver the mail and carry away waste to the landfill, to name a few examples.
The General II can hold 18-20 vehicles, depending on their size, and was the only barge operating for several days last week when Love City's Capt Vic was pulled out of service for repairs.
Love City recently announced the expansion of its fleet to include the newly-built M/V Grand Vic, but Global Marine has news of expansion as well. The company recently acquired the M/V Brigadier, previously owned by James Boynes of Boynes Trucking.
The 137-foot Brigadier was washed out of the Enighed Pond during the hurricanes and ran aground on Little St. James in Pillsbury Sound. Brigadier had been used by Boynes Trucking to transport fuel between the Virgin Islands and Puerto Rico.
Following an insurance settlement, the barge was put in dry dock on St. Thomas for structural repair; it is now being restored in Enighed Pond. Hedrington hopes to have it back in service within two weeks.
Global Marine plans to use the Brigadier "for trucks, trash, and heavy equipment. We're in hurricane season now. We have our task: to get the trash out of the Susannaberg Transfer Station," he said.
Hedrington said the massive pile of discarded appliances now at Susannaberg will be taken to Puerto Rico for recycling.
Hedrington also plans to set up regular service several times a week between St. John, St. Croix, and Puerto Rico.
"There's a high demand for building materials," he said. "It's going to take a lot to put the islands back together."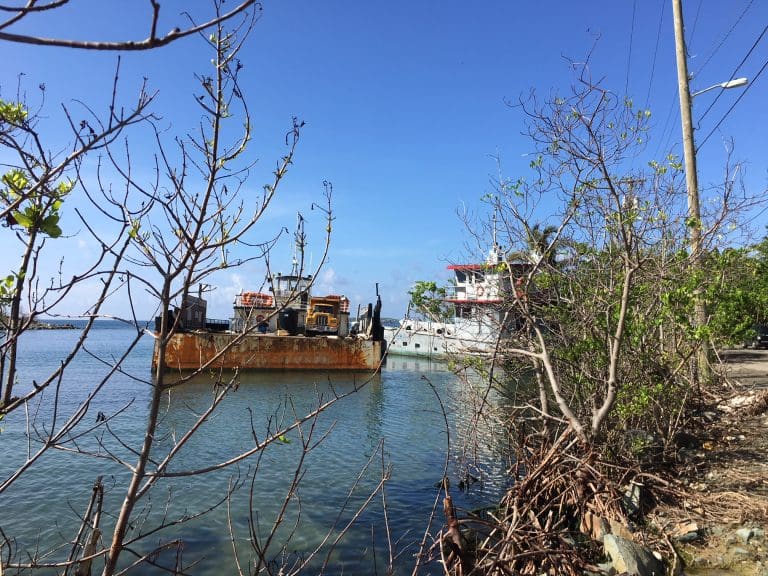 The 87-foot General II is the only barge now in service that is a landing craft capable of pulling up onto a beach or next to a transport ship to receive and offload supplies. Since the hurricanes, it has been used extensively to bring equipment, including new telephone poles, to St. John. It has also been used to take hurricane waste off island, sometimes operating throughout the night.
Because the General II was called away from its regular service between St. Thomas and St. John for charters, Love City Car Ferries ended a ticket exchange agreement with Global Marine several months ago. For years the two companies had allowed passengers buying tickets for one company to use them on the other company's vessels.
"Global Marine would leave in the middle of the day to go out on charter," said Anecia Sewer, vice-president of Love City Car Ferries. "Global didn't call us to let us know. That created problems for our employees who had to work overtime. I couldn't plan a budget."
Sewer said customers waiting for barges became angry and confused when they didn't show up, and Love City said it had to separate from Global to protect its brand.
"Yes, we went out on charter," said Hedrington, "but we did it to help out our restructuring and rebuilding. WAPA's goal was to get electricity restored to the island by December, and we moved everything that WAPA needed to make sure that happened."
Hedrington understands why Love City moved to cancel their ticket exchange program, but he considers the timing unfortunate.
"There are only two vessels operating now, and this creates a hardship," he said.
After the General II returns from its Coast Guard inspection, Hedrington said the barge will continue its runs from 7 a.m. to 7 p.m. He would like the Virgin Islands Port Authority to allow the barge terminals to implement extended hours, at least until 8 p.m. and preferably even later, so that St. John residents can go to St. Thomas to shop, see a movie, and have dinner, and come home at night.
In the meantime, he pledges that Global Marine will never leave any St. John customer stranded who has a return ticket, or the cash to buy one, in Red Hook if there's no room aboard the last departing vessel.
"We'll make sure you get back home," he said.
Shared content for Virgin Islands Source and St. John Tradewinds.