The Department of Licensing and Consumer Affairs' recent decision that Love City Community Network cannot charge its regular users a monthly fee has prompted the community-based internet service to step up its requests for donations.
The news was disappointing for LCCN. "In order for us to provide a base level of service, we need to charge what's called in the non-profit world, a 'fee-for-service.' It ensures that we can use the money generously donated to making our network more robust," said Devin Murphy, LCCN's new executive director.
LCCN was formed from a loose association of IT consultants, engineers, and volunteers who came together to reconnect St. John to the internet after Hurricane Irma struck on Sept. 6, knocking out power, phone and internet service.
Immediately after the storm, the group's priority was to provide connectivity support to disaster relief agencies and to establish WiFi hotspots for the public.
Over the next several months they formed LCCN, a non-profit corporation now providing 500 residents and businesses with an internet signal that varies in speed and reliability. In areas where there was no phone or texting service available from any other provider, they've supplied basic service temporarily.
In May, LCCN sent out a message to their 500 subscribers requesting that they contribute $55 a month to maintain the network. Users who reconnected after the storm to a commercial internet service provider, like Viya or Broadband, were asked to pay $20 monthly.
The Department of Licensing and Consumer Affairs recently overruled that plan, claiming that their nonprofit status prevented them from charging a monthly fee.
"It took awhile to get that resolution, even if it wasn't the resolution we'd like" said Ivan Jacobs, LCCN's outreach and development director. The problem lay in the wording of the paperwork filed when LCCN was incorporated, said Jacobs. The document that lays out the nonprofit's intentions "may have been done incorrectly. We may want to amend our paperwork," he added.
In spite of Licensing's ruling, LCCN is pressing on with its mission: to reinforce its disaster-ready network; to create a series of public WiFi hotspots that can be operational almost immediately after a storm; and to reach people in remote locations who are not being served by the main internet service providers.
LCCN has set up a network of antenna sites they call "sectors," placed at various points around St. John, including the top of Great Cruz Bay, Ditleff Point, Bordeaux Mountain, and Lovango Cay. These sectors are equipped with antennas that distribute internet signal to anyone who is within line-of-sight and has purchased a receiver known as a NanoBeam.  All of their sectors are self-sustaining and can be taken down and re-deployed relatively easily in the face of a storm.
Jacobs recently announced, "Our 17th sector is now online from a distribution point near Hansen Bay. This is huge for the people of Calabash Boom."
LCCN's installation of a distribution site at Ajax Peak this spring brought internet connectivity to people living in Coral Bay. Viya and other commercial internet service providers have yet to reach customers at that end of St. John.
In spite of improvements, there are still plenty of places in Coral Bay where people cannot access the signal from Ajax Peak. "We're hoping to reach Mandahl Bay and Lameshur where the Virgin Islands Environmental Resource Station is located. It's a matter of resources. We're using every precious donor dollar towards reinforcing the network," said Jacobs.
LCCN recently established a second route to Coral Bay from Lovango Cay to Ajax Peak.  "Now our data has two ways to get there. If one distribution site gets blown away, we now have a redundant path," said Jacobs.
"We're a real life laboratory for a network that operates 24/7, that 'learns' as more traffic comes on line," said Murphy. "We use high tech radios to transmit signals. All of our sites are off the grid. That takes a surprising amount of engineering. We've been working in partnership with Ubiquiti, the company that makes the antennas and radios we use in our system. We're testing the limits of their equipment."
LCCN also tested out their network by activating a WiFi hotspot during St. John Carnival in July. "We set up a hotspot in Carnival Village. We had, over the weekend, 3,000 connections as people sent emails, text messages, and simple social media posts,"  Murphy said.
Similar technology will be deployed throughout St. John as part of LCCN's disaster network plan. Volunteers are being trained to set up the mobile WiFi hotspots in neighborhoods so that residents won't have to travel miles to find a signal should commercial infrastructure become unavailable in another storm, said Jacobs.
As part of disaster readiness, LCCN's staff is checking in with hosts of distribution points, many of which are located on villas located at high elevations. They are being trained to take down the self-sustaining, solar-powered antennas as a storm approaches, and redeploy them after the storm passes.
Following a storm, LCCN has a set of priorities for reconnecting service if it is lost. "Our goal is to get first responders able to communicate within 24 hours of a disaster," said Jacobs.  "We have different tiers — first responders and relief coordinators; then businesses critical to the recovery, such as contractors, drug stores, fuel providers, electricians; then relief workers who are flown in; and finally the hundreds of residents owning NanoBeams.
In spite of the restoration of internet service through commercial providers in Cruz Bay and surrounding areas, "there are some businesses that are still using our network for streaming music in a cafe or processing credit cards," said Murphy. Likewise, many residents have chosen to stick with their NanoBeams rather than subscribing to service from Viya, Broadband, or other providers, and this is creating some problems for LCCN.
LCCN users are frustrated at peak hours, usually between 5 p.m. and 10 p.m. because the system is "getting clogged," said Jacobs. LCCN's system, unlike an ISP, is not designed to provide consistent service at a specific level of speed based on how much the customer pays. Some users get more than others, and they use it to stream Netflix. Jacobs says streaming video is not a bad thing, but LCCN might have to impose speed limits so that others can get basic connectivity.
"There's still a ton of demand. Without a fee structure, users have no incentive to go back to ISP's like Viya and Broadband, said Jacobs. "We're not here to be competitive or anti-competitive. We don't want to be free. From the beginning we planned to charge."
"Our intention is not to become an internet service provider. What we're good at is being small and nimble," added Murphy. "Even though Viya is coming back, people see the importance of back-up. We're not here to replace Viya or Broadband. In fact, we plan to perform with them. We're stronger when we all work together."
As a nonprofit, education is part of LCCN's mission, and the LCCN team has planned 100 hours of educational programming for school-age youth on St. John.
Last month LCCN formalized their structure by electing a board of directors and naming their corporate officers.
The board includes Meaghan Enright from Love City Strong; Celia Kalousek from the St. John Community Foundation; Jeff Quinlan from Kenny Chesney's Love for Love City Foundation; Ian Samuel from the Bloomberg Group; and Nick Harlan from Microsoft.
In addition to Executive Director Devin Murphy, LCCN's officers are Matt Gyuraki, director of operations; Morgan Barlas, network engineer; Ivan Jacobs, outreach and development director; Pete Motl, chief technician; and Sarah Hanson, administration and tech support.
LCCN also employs four part-time installers and two part-time staff members working in engineering and operations.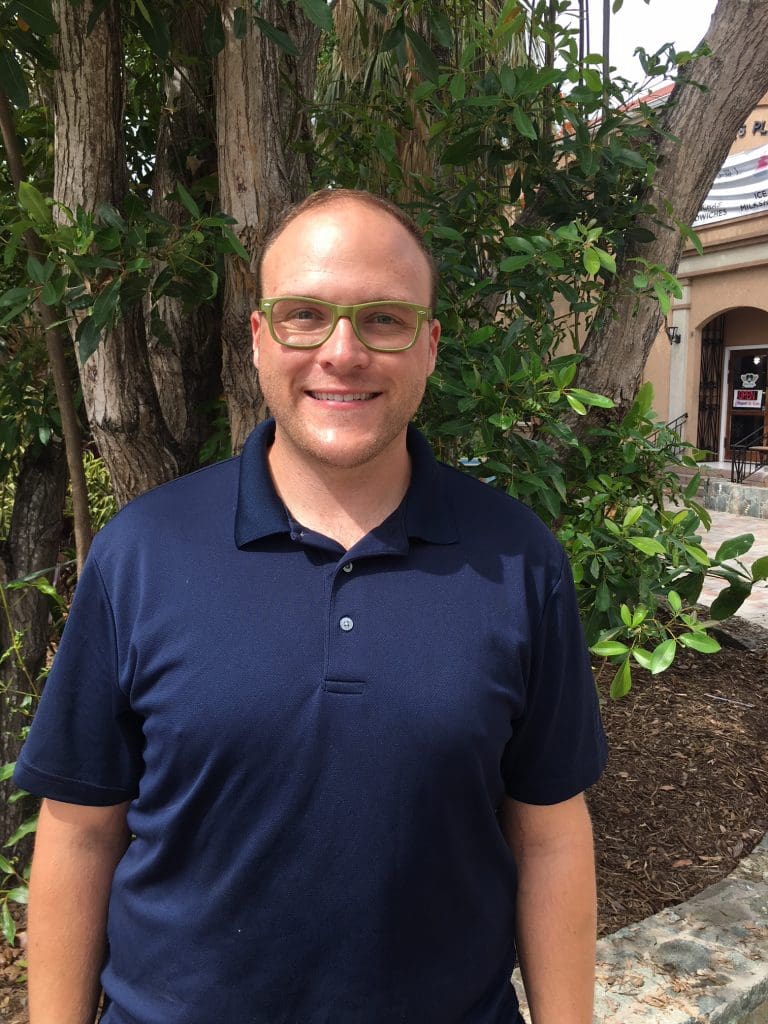 Devin Murphy came on as executive director in early July. Originally from Connecticut, he had been living in Nashville for seven years prior to moving to the Virgin Islands. A cross-fitness trainer and medical administrator, he came to St. Thomas in the spring as part of a finance administration team for the National Disaster Medical System.
"I spent the weekends on St. John and fell in love with the island. I thought what LCCN was doing was totally cool," said Murphy, adding he was impressed with their "total commitment" and "out-of-the-box thinking."
Now that charging a fee-for-service model has been quashed, Murphy and Jacobs are actively pursuing grants and asking their users to make donations to keep the network going. Their last call to action produced $5,000. "It's exciting to know the community sees the value," Murphy said.
Most of their more recent users have made donations, but some users who signed on in the early months seem to take their service for granted now. These include villa owners, some of whom were given priority and reconnected early on because tourists refused to come to a rental unit without WiFi connectivity.
"All we're asking is $55 a month," said Jacobs.
Shared content for Virgin Islands Source and St. John Tradewinds.